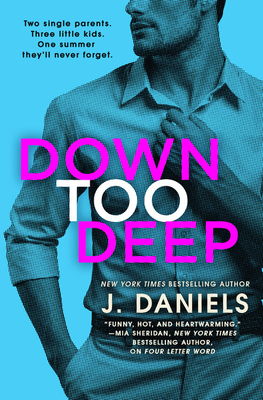 Down Too Deep (Dirty Deeds #4) (Paperback)
Forever, 9781538743478, 400pp.
Publication Date: October 8, 2019
* Individual store prices may vary.
Description
Two single parents and three adorable kids are about to have a summer they'll never forget in this sexy, heartwarming new novel of the New York Times bestselling series.
Following the sudden death of his wife, Nathan Bell spent nearly two years burying himself in work and neglecting his biggest responsibility: his daughter. Overcome with guilt, he wants to connect with little Marley, but he doesn't know how to do it alone. And then Jenna Savage throws him a lifeline.
A single mom of twins, Jenna is more than capable of taking care of Nathan's adorable two-year-old and wants to help Nathan however she can. As the days go by and her attraction to Nathan grows, she can't help wondering what might happen if they became a family for real. And the closer everyone becomes, the more right it feels.
Falling in love forces Nathan to face his biggest fear, and when hearts -- both big and little -- are on the line, the only thing scarier than needing Jenna and her kids so much is losing them all.
About the Author
J. Daniels is the New York Times and USA Today bestselling author of the Sweet Addiction series, the Alabama Summer series, and the Dirty Deeds series. She loves curling up with a good book, drinking a ridiculous amount of coffee, and writing stories her children will never be allowed to read. Daniels grew up in Baltimore and resides in Maryland with her family.
Praise For Down Too Deep (Dirty Deeds #4)…
"Bad For You is a distinctive blend of passionate romance, heartrending story and hopeful message, and it left me a satisfied mess with a big smile on my face. ...A beautiful romance that is a testament to acceptance, love and second chances."—USA Today, Happy Ever After

"A perfect balance of laugh out loud funny and crazy sexy, Hit the Spot is an alpha romance brimming with sassy banter that you won't want to miss!"—Meghan March, USA Today bestselling author

"Hit the Spot has everything I love in romance: off-the-charts hotness, witty banter, emotional intensity and enough sexual tension to cause spontaneous combustion. I sure wouldn't mind riding Jamie McCade's wave."—Helena Hunting, New York Times bestselling author

"Hit the Spot is a slow, delicious burn that hit me in ALL the right spots!"—Harper Sloan, New York Times bestselling author

"Daniels turns up the heat in the first book in the sexy new Dirty Deeds series. Fans of alpha males will devour Daniels' spicy new-adult romance."—Booklist on Four Letter Word

"Love! That's the four letter word to describe how I felt about this unique, sexy story. J. Daniels' hottest book to date."—Penelope Ward, New York Times bestselling author on Four Letter Word

"A delicious slow burn with explosive chemistry--Four Letter Word is everything you want and more. Twists and turns. A to die for hero. J. Daniels's writing is unique, emotional, and addictive. My four letter word is LOVE. Multiplied by four!"
—Katy Evans, New York Times bestselling author of Manwhore on Four Letter Word

"An emotionally intense journey with the perfect balance of funny and steamy. You'll swoon over Brian and fall in LOVE with Four Letter Word."—Helena Hunting, New York Times bestselling author on Four Letter Word

"The perfect mix of funny, hot and heartwarming. I enjoyed it immensely!"—Mia Sheridan, New York Times bestselling author on Four Letter Word

"Consider yourself warned: Four Letter Word will grab you from page one and won't let you go! It was deliciously sexy, and achingly beautiful. Completely and utterly brilliant, I loved every word!"—Tara Sue Me, New York Times bestselling author on Four Letter Word

"J. Daniels never disappoints! A stunning story with humor and heat, prepare to smile and squirm as you race through the pages. You'll be dying to know what happens next!"—Jay Crownover, New York Times bestselling author on Four Letter Word

"Sweet and seductive. This is the type of book that steals your entire night. Get ready for Trouble."—R.S. Grey, USA Today bestselling author on Four Letter Word

"Four Letter Word is the perfect blend of heat, emotion and humor. J. Daniels does an excellent job pulling you in with relatable characters, solid writing and a beautiful story about finding love when you least expect it and forgiveness. I can't wait to see where she takes us next with Tori and Jamie!"—Tara Sivec, USA Today bestselling author

"Holy freaking hotness, I have WILD LOVE for this book!!...a unique, addictive, swoon-filled romance! Easily one of my 2016 Top Favorites!...I can confidently say that if you're a fan of Kristen Ashley, then you will love this book!!!!"—Aestas Book Blog on Four Letter Word