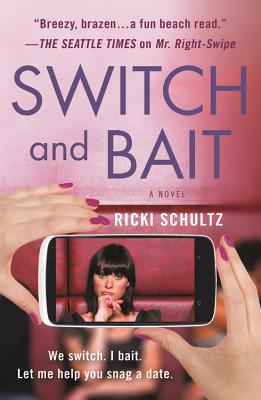 Switch and Bait (Paperback)
Grand Central Publishing, 9781538745007, 304pp.
Publication Date: June 12, 2018
Other Editions of This Title:
Digital Audiobook (6/11/2018)
* Individual store prices may vary.
Description
In this charming, sexy, and "laugh-out-loud" (USA Today) funny romantic comedy, an online dating ghostwriter's life gets hilariously complicated when she recognizes one of her clients' matches--her ex!--and finds herself forced to flirt with him again, on someone else's behalf...

We switch. I bait.
Let me help you snag a date.

All through college, Blanche Carter was known as the love doctor in her sorority. Now she's parlayed her talent into a unique consulting business: she runs the online dating profiles of Washington D.C.'s most eligible women.

Armed with a battalion of rules, Blanche expertly helps her clients optimize their profiles and ace that first date. But although she'll happily message handsome strangers (and fend off dick pics) for other ladies, Blanche's most important rule is the one she has for herself: no relationships. She's seen too much heartbreak to believe in real love anymore.

When a former fling pops up among the matches for one of her favorite clients, Blanche gamely messages him on her behalf. Blanche is definitely over him, and this is how she'll prove it. But if she doesn't watch out, Blanche might end up not only screwing over a client--and possibly tanking her entire business--but breaking her rule about love as well . . .

Ricki Schultz's trademark irreverent humor and wry insight into the absurdities of modern dating are both outrageously funny and genuinely moving in her unforgettable new novel.

"A wry, audacious romance that is perfect for our contemporary moment...[with] sparkling, irreverent banter that is so good you might be tempted to steal it for your own online dating one-liners." -- Entertainment Weekly

"Funny, sexy and unexpectedly touching...An often-hilarious and surprisingly endearing read, perfect for beach season!" -- RT Book Reviews

"Romantic and funny...a great summer read." -- BookTrib

"Ricki Schultz's relatable novel will have readers LOLing." -- US Weekly on Mr. Right-Swipe

"A brilliantly funny debut novel about a 21st century girl searching for her happily ever after." -- Bustle on Mr. Right-Swipe

"Breezy, brazen...a fun beach read." -- Seattle Times on Mr. Right-Swipe

"This book gave me my absolute favorite feeling: laughing out loud alone in a room, chased immediately by the swoons." -- Christina Lauren on Mr. Right-Swipe
About the Author
Although she is originally from Cleveland, Ohio, and has spent the most time there, Ricki Schultz has also lived in Georgia and Virginia. (She promises she's not a drifter, though.) In addition to writing, she has molded the minds of tweens & teens as a middle school and high school teacher in both the CLE and the ATL -- and she also spent a year teaching writing and communications at the college level. She's back in Atlanta now, and she owns the cutest beagle ever (Molly).
Praise For Switch and Bait…
"A laugh-out-loud romantic comedy."—USA Today


"Funny, sexy and unexpectedly touching, Schultz's new novel is [like] Hitch...with its own twist. Blanche is simultaneously sincere
and snarky...the kind of character who would be easy to befriend and
root for in real life.... With smart writing, sharp wit and intense sex
scenes, Schultz shines an irreverent light on modern dating and its many
potential pitfalls....An often-hilarious and surprisingly endearing
read, perfect for beach season!"—RT Book Reviews

"A well-paced story and vivid characters...A delight. Schultz adds
considerable depth and appealing layers with a strong array of
supporting characters, including Blanche's best friend from college,
plucky Isla, who is living with Huntington's disease; her endearingly
klutzy client Ansley; and her sleazy occasional boyfriend, Cliff. She
also shows a flawed and vulnerable side of seemingly immaculate Henry.
Fans of women's fiction and contemporary romance will be sure to keep an
eye out for Schultz's future books."—Publishers Weekly

"Romantic and funny...Schultz's second book is a great summer read."—BookTrib

Praise for Ricki Schultz's debut MR. RIGHT-SWIPE:

"This book gave me my absolute favorite feeling: laughing out loud alone in a room, chased immediately by the swoons. Nick is my new book boyfriend. But even better? Rae is my new best friend. MR. RIGHT SWIPE is exactly the book I needed."—Christina Lauren, New York Times bestselling author of the BEAUTIFUL BASTARD series

"Schultz's book is a delightful tale which highlights the modern struggle of finding love when you're single. With an easy writing style and language that would fit in with any group of millennial women, it's a greatly relatable story. For a fun read that feels like an adventure in everyday life more than it does a book, this comes highly recommended."—RT Book Reviews (FOUR STARS)


"Ricki Schultz's relatable novel will have readers LOLing."—US Weekly


"Rae is a Heroine Who Keeps It Real...She's blunt, she's sarcastic,
she's honest. You'll want to be her best friend....A brilliantly funny
debut novel about a 21st century girl searching for her happily ever
after."—Bustle

"Breezy, brazen..a fun beach read."—Seattle Times


"In her hilarious debut, Atlanta-based writer Ricki Shultz delivered a
relatable tale of the horrors and triumphs of online dating....[With]
sharp, insightful humor, the book is riotous summer fun."—The Red & Black


"This is my first time reading a Ricki Schultz novel and I know it will
not be my last. Her witty sarcasm and fun characters in MR. RIGHT-SWIPE
has created a forever fan in me and I will be looking for more."—The Book Quarry


"If you're looking for something light, funny, and an all around good book, this one will not disappoint!"—The Lovely Books


"Schultz is a kindred spirit... I could be here all day including
excerpts from this book detailing what I mean but, honestly, you just
have to read it. It's hilarious."—Bell of the Literati


"This is a fantastic debut. If you want an easy, beach read that will have you laughing, I'd say this book is for you."—Where The Reader Grows


"If you enjoy movies like "You've Got Mail" or "Hitch" then you are going to LOVE [this] book."—WKYC/Lakeside Today