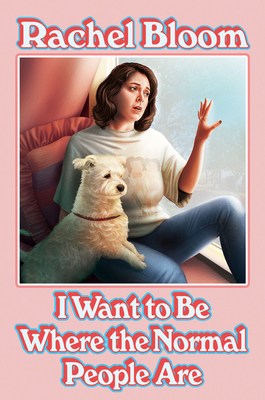 I Want to Be Where the Normal People Are (Hardcover)
Grand Central Publishing, 9781538745359, 288pp.
Publication Date: November 17, 2020
Other Editions of This Title:
CD-Audio (11/17/2020)
Compact Disc (11/17/2020)
* Individual store prices may vary.
Description
From the charming and wickedly funny co-creator and star of Crazy Ex-Girlfriend, a collection of hilarious personal essays, poems and even amusement park maps on the subjects of insecurity, fame, anxiety, and much more.
Rachel Bloom has felt abnormal and out of place her whole life. In this exploration of what she thinks makes her "different," she's come to realize that a lot of people also feel this way; even people who she otherwise thought were "normal."
In a collection of laugh-out-loud funny essays, all told in the unique voice (sometimes singing voice) that made her a star; Rachel writes about everything from her love of Disney, OCD and depression, weirdness, and Spanx to the story of how she didn't poop in the toilet until she was four years old; Rachel's pieces are hilarious, smart, and infinitely relatable (except for the pooping thing).
About the Author
Rachel Bloom is best known as the star and co-creator of the CW musical dramedy, Crazy Ex-Girlfriend, for which she earned a Golden Globe and Critics Choice Award for her performance as "Rebecca Bunch" as well as an Emmy Award for the show's songwriting. As a live performer, she has sold out Radio City Music Hall and The London Palladium and recently had a residency at the Just for Laughs comedy festival. In April, she starred in the movie Trolls World Tour as "Barb." She will be writing the music and lyrics for The Nanny on Broadway.
Praise For I Want to Be Where the Normal People Are…
"It's nice to know someone as talented as Rachel is also pretty weird. If you're like me and love Rachel Bloom, this hilarious, personal book will make you love her even more."
—
Mindy Kaling
"Rachel is one of the funniest bravest people of our generation and this book blew me away."—
Amy Schumer
"Painfully funny (and funnily painful)."—
B.J. Novak
"Rachel Bloom looks at our 'normal' world through the point of view of a confused, hopeful alien with a huge heart and a raging, quirky creativity. I will never look at amusement park maps the same way."—
Patton Oswalt
"There's something I love a lot that people don't acknowledge as a thing and it's heartbreaking comedy. This book is that. Read it. You will laugh while you're crying and cry while you're laughing. Treat yourself to the heartbreaking comedy that is the life of Rachel Bloom."
—
Sarah Silverman
"Rachel Bloom is just that a person who has whole-y bloomed into a fiercely funny talent performer and now writer. Was that a corny sentence? Yes. Is this book corny? No. It's wild to read or think about people wanting so desperately to be normal. I'm so thankful Rachel never got to where the normal people are because we wouldn't be enriched with the art she has shared with the world. The book is f*cking funny and a breezy read and you're goofy as f*ck if you don't buy it."—
Nicole Byer, author of #VERYFAT #VERYBRAVE
"My podcast made Rachel Bloom cum and it'll make you cum too."—
Dan Savage
"(Rachel has) a legendarily active imagination with a predisposition for anxiety. Uh, sure you can put this quote on the back of your book I guess?"—
Rachel's Psychiatrist