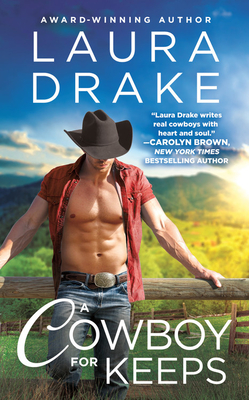 A Cowboy for Keeps (Chestnut Creek #3) (Mass Market)
Forever, 9781538746479, 352pp.
Publication Date: July 28, 2020
* Individual store prices may vary.
Description
From a "fabulous new voice in romantic fiction" (NYT bestselling author Lael Miller): an arrogant cowboy meets a headstrong woman determined to take custody of his niece, only to realize that she may be the family he was always searching for.
There's not much that could rattle a cowboy like Reese St. James. But when his twin brother dies in a car accident, Reese is stunned to discover he has a six-month old niece, Sawyer. Wanting to make up for lost time, Reese heads down to Unforgiven, New Mexico, to bring her home. He doesn't plan on Sawyer's guardian giving him any trouble, but the intriguing, independent woman is turning out to be more than he bargained for.
Lorelei West had given up hope of having a family of her own until her sister's tragic death brought little Sawyer into her life. And now there's no way she's going to let Reese take her away. Lorelei knows hotshot, good-looking cowboys like him -- she's dated enough of them -- and she intends to stand her ground. Yet the more time Reese and Lorelei spend together, the harder it is to deny the attraction building between them. But opening their hearts to a baby is one thing -- can they also open their hearts to the possibility of a happily-ever-after?
About the Author
Laura Drake grew up in the suburbs outside Detroit. A tomboy, she's always loved the outdoors and adventure. In 1980 she and her sister packed everything they owned into Pintos and moved to California. There she met and married a motorcycling, bleed-maroon Texas Aggie and her love affair with the West began.
In 2014, Laura realized a lifelong dream of becoming a Texan, and is currently working on her accent. She gave up the corporate CFO gig to write full time. She's a wife, grandmother, and motorcycle chick in the remaining waking hours.
Praise For A Cowboy for Keeps (Chestnut Creek #3)…
"Drake's third Chestnut Creek romance takes the series to a new level of nuance and emotional impact. . . . Readers will be taken with the beautifully written moments of heartache and happiness."—
Publishers Weekly
"This fast-paced romance has just enough suspense to give it spice."—
Publishers Weekly on Home at Chestnut Creek
"Drake takes readers on a beautifully imperfect journey."—
Publishers Weekly on The Last True Cowboy
"Brilliant writing, just brilliant!"
—
Lori Wilde, New York Times bestselling author
"Laura Drake writes real cowboys with heart and soul."—
Carolyn Brown, New York Times bestselling author
"Drake is a fabulous new voice in romantic fiction."—
New York Times bestselling author Linda Lael Miller on The Sweet Spot