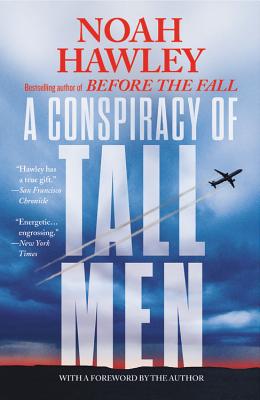 A Conspiracy of Tall Men (Paperback)
Grand Central Publishing, 9781538746509, 384pp.
Publication Date: June 5, 2018
Other Editions of This Title:
Digital Audiobook (6/4/2018)
Paperback (9/1/1999)
CD-Audio (6/19/2018)
Compact Disc (6/5/2018)
* Individual store prices may vary.
Description
The debut literary thriller that launched the career of the bestselling author of BEFORE THE FALL and the creator of the show Fargo.
Linus Owen is a young professor of conspiracy theory at a small college just outside San Francisco. His marriage is foundering and his wife, Claudia, has gone to Chicago to visit her mother. But if Claudia is in Chicago, how is it that two FBI agents show up at Linus' office and inform him that Claudia has been killed in a plane crash on her way from New York to Brazil? And why did a man named Jeffrey Holden, the vice president of a major pharmaceutical company, buy her ticket and die beside her?

Enlisting the aid of two fellow conspiracy theorists, Linus heads across the country in search of answers. But as their journey progresses, it becomes frighteningly clear they've left the realm of the academic and are tangled up in a dangerous, multilayered cover-up. Finally, deep in the heart of the American desert, stunned by an ominous revelation, Linus sees he has a new mission: to try to stay alive.

Part Don DeLillo, part Kurt Vonnegut, with writing that is electric, whip-smart and suspenseful at each turn, Noah Hawley draws us into a deliciously labyrinthine world of paranoia and plots.
"Energetic and funny...an engrossing debut."--The New York Times
About the Author
Noah Hawley is an Emmy, Golden Globe, PEN, Critics' Choice, and Peabody Award-winning author, screenwriter, and producer. He has published four novels and penned the script for the feature film Lies and Alibis. He created, executive produced, and served as showrunner for ABC's My Generation and The Unusuals and was a writer and producer on the hit series Bones. Hawley is currently executive producer, award-winning series, Fargo, and Legion from FX Productions and Marvel Television.
Praise For A Conspiracy of Tall Men…
"Hidden in the cloak of a conspiracy thriller is a genre-buster of a book, a cunning, artistic, page-turning satire of our tenuous grasping at truth and free will."—
Po Bronson, author of THE FIRST $20 MILLION IS ALWAYS THE HARDEST
"Orwellian echoes haunt this provocative, tongue-in-cheek debut chiller....A suspenseful, cerebral satire....
—
Publishers Weekly
"Noah Hawley's writing is vivid and muscular. He speeds it up and slows it down in just the right places, and the portrait he paints of Linus is memorable. [He has a] true gift for characters."
—
San Francisco Chronicle
"Energetic and funny...an engrossing debut."—
The New York Times