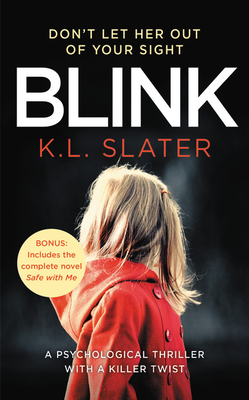 Blink (Mass Market)
Includes the bonus novel Safe with Me
Grand Central Publishing, 9781538747827, 736pp.
Publication Date: January 29, 2019
Other Editions of This Title:
Paperback (2/16/2017)
MP3 CD (8/4/2017)
* Individual store prices may vary.
Description
What if the person you love most in the world was in terrible danger ... because of you?
Three years ago, Toni's five-year-old daughter Evie disappeared after leaving school. The police have never been able to find her. There were no witnesses, no CCTV, no trace.
But Toni believes her daughter is alive. And as she begins to silently piece together her memories, the full story of the past begins to reveal itself, and a devastating truth.
Toni's mind is trapped in a world of silence, her only chance to save herself is to manage the impossible. She must find a way to make herself heard. She must find her daughter.
Includes the bonus novel SAFE WITH ME:
Thirteen years ago someone did something very bad to Anna. Now it's her turn to get even...
Anna lives a solitary existence, taking solace in order and routine. Her only friend is the lonely old lady next door. She doesn't like to let people to get too close - she knows how much damage they can do.
Then one ordinary day Anna witnesses a devastating road accident and recognises the driver as Carla, the woman who ruined her life all those years ago. Now it's Anna's chance to set things straight but her revenge needs to be executed carefully...
First she needs to get to know Liam, the man injured in the accident. She needs to follow the police investigation. She needs to watch Carla from the shadows...
But as Anna's obsession with Carla escalates, her own secrets start to unravel. Is Carla really dangerous or does Anna need to worry about someone far closer to home?
About the Author
Kim is the bestselling author of psychological crime thrillers Safe With Me, Blink, Liar, The Mistake and The Visitor.
For many years, Kim sent her work out to literary agents and collected quite a stack of rejection slips. At the age of 40 she went back to Nottingham Trent University and now has an MA in Creative Writing.
Before graduating in 2012, she received five offers of representation from London literary agents and a book deal. Kim is a full-time writer and lives in Nottingham, England with her husband, Mac. She also writes award-winning Young Adult fiction as Kim Slater.
Author website: www.KLSlaterAuthor.com
Twitter: @KimLSlater
Facebook: KL Slater Author
Praise For Blink: Includes the bonus novel Safe with Me…
"Brilliant
very clever . . . I absolutely recommend it!"—BA Paris, New York Times bestselling author of Behind Closed Doors

"The
book had me from the very first sentence and kept hold of me until I finished
it. There are twists galore, but on one occasion, my jaw actually dropped open
as I realised that all was not as it seemed. Fantastic writing, excellent
characterisation that has left me salivating for book number three! Five stars."—USA Today bestselling author Angela Marsons

"With bucketfuls of suspense and intrigue, BLINK is guaranteed to keep the most hardened psychological thriller lover on the edge of their seat. Five stars."—TheBookReviewCafe.com

"Five
stars! This book had me hook, line and sinker . . . this author's mind is very
clever!"—Sue Ward, sueandherbooks.blogspot.com

"A
novel that those who liked The Girl on
The Train and Behind Closed Doors
won't want to miss."—MyLittleBookCorner.com

"A
thrilling roller coaster of a read that will have you gripping on for dear life."—BytheLetterBookReviews.com

"WOW, gripping story, believable untrustworthy characters and not just one but two totally jaw dropping unexpected twists."—NickisLifeofCrime.blogspot.com

"Pure genius!! Blink is everything a psychological thriller should be!"—WhatRachelReadNext.co.uk

"A very clever psychological thriller that plays with your mind..."—BytheLetterBookReviews.com on Safe with Me

"Just need a moment to lift my jaw back off the floor, what a fantastic debut!"—ChellesBooksReviews.blogspot.com on Safe with Me

"You know how some books declare 'It'll leave you on the edge of your seat'? I swear I almost fell off mine more than once. This is a gem of a read..."—WomanReadsBooks.com on Safe with Me

"The dangers and the twists came from everywhere and when you least expected them. As you read you know the worst is coming. A remarkable debut novel...I couldn't wait to see how it would end."—BookAddictShaun.co.uk on Safe with Me

"Sublimely dark and all-consuming, Slater has written a novel so gripping, so captivatingly exciting that I found myself shushing everyone and ignoring everything simply so I could carry on reading."—BeccasBooks.wordpress.com on Safe with Me

"I was glued to the pages."—LoudandProudBookJunkie.wordpress.com on Safe with Me