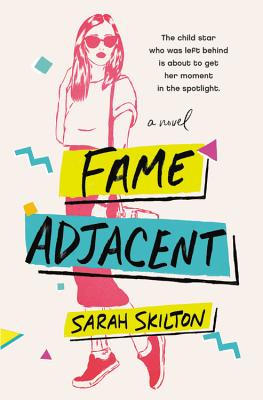 Fame Adjacent (Paperback)
Grand Central Publishing, 9781538747988, 336pp.
Publication Date: April 9, 2019
* Individual store prices may vary.
Description
The child star that was left behind is about to get her moment to shine in this swoony romantic comedy inspired by a unique, beloved facet of pop culture history: The Mickey Mouse Club.
Holly Danner has a complicated relationship with fame. It's not easy being the only cast member of a 1990s song-and-dance show who didn't become famous. When she was eleven, she used to do anything for a laugh (or at least a laugh-track) on "Diego and the Lion's Den
."
If she talked about it--which she almost never does--Holly might explain how her childhood best friends came to dominate the worlds of pop music, film, and TV while she was relegated to a few near-misses and a nanny gig for her niece. She'd even be telling the truth about making peace with the whole thing years ago.
But when she finds out there's a 25th anniversary for the show planned--a televised reunion, clip show, and panel--and she wasn't invited, it's time for an impromptu road trip to crash the event and set the record straight. Three problems: she's currently in Internet Rehab (perhaps she's not quite as well-adjusted as she believes...), she has no cash, and the only person who can get her across the country in time is Thom Parker, a handsome, infuriatingly level-headed patient who doesn't think she should confront her famous ex-friends.
FAME ADJACENT is a contemporary, realistic, and humorous look at love, friendship, and fame, as seen through the eyes of a girl who lived it--from the sidelines.
About the Author
Sarah Skilton is a book blogger with Barnes & Noble as well as the author of two young adult novels, Bruisedand High & Dry. Her first adult novel, Club Deception, was published by Grand Central in 2017.
Praise For Fame Adjacent…
PRAISE FOR SARAH SKILTON AND CLUB DECEPTION:
"Glamorous, sexy, and full of more twists than a magic show, CLUB DECEPTION put
Sarah Skilton on my insta-buy list!"—
Katee Robert, New York Times bestselling author of The Marriage Contract
"Packed with flash, sizzle and spark, CLUB DECEPTION lays bare the intrigue among a group of scheming modern magicians, both on the stage and behind closed doors. Skilton keeps you guessing until the very last pages -- and you'll revel in every sly, sexy turn of events along the way."—
Greer Macallister, bestselling author of The Magician's Lie and Girl In Disguise

"Rollicking suspense with a throw-back 20's vibe...Skilton's sleight-of-hand hides all the tricks until the very end."
—
Sandra Block, author of The Secret Room and Little Black Lies
"A bold, skilled storyteller, Sarah Skilton creates a fascinating world of magic and
murder in the deceitfully delicious CLUB DECEPTION. A perfect read for mystery lovers
who like their murder with a dash of glitz and plenty of twists."—
Shelley Coriell, award-winning author of The Apostles Series
"Skilton captures the romance of stage magic while educating readers
about its history and culture. Splashy
backdrops, steamy sex scenes, and strong,
smart female characters complement the
soapy plot."











—
Publisher's Weekly