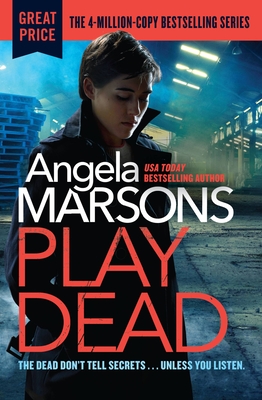 Play Dead (Detective Kim Stone #4)
Paperback

* Individual store prices may vary.
Other Editions of This Title:
Paperback (5/20/2016)
Description
Detective Kim Stone discovers the best place to hide a murder in this gripping psychological thriller from USA Today bestselling author Angela Marsons.

Westerley research facility is not for the faint-hearted. It's a "body farm" known for its investigations into human decomposition, with inhabitants that are corpses in various states of decay. But when Detective Kim Stone and her team discover the fresh body of a young woman among the donated cadavers there, it seems a killer has discovered the perfect cover to bury their crime.

Then a second girl is attacked and left for dead, her body drugged and mouth filled with soil. It's clear to Stone and the team that a serial killer is at work. But just how many bodies will they uncover? And who is next?

When local reporter Tracy Frost disappears, the stakes are raised. The past seems to hold the key to the killer's secrets—but can Kim uncover the truth before a twisted, damaged mind claims another victim?
Praise For Play Dead (Detective Kim Stone #4)…
"I read this book in one sitting, yes it really was that good ... the perfect crime thriller, well plotted, great characters, suspense ... and the most deviant and chilling serial killer... Utterly gripping and it's certainly going to be in my top reads of 2016 ... 5 stars out of 5 plus a glass of wine (to steady my nerves, after reading such a heart-pounding crime thriller)."—The Book Review Cafe on Play Dead

"Hooks you and reels you in ... Life gets put on hold until you've finished the latest offering in her AMAZING Kim Stone series ... utterly fantastic."—Reading Room with a View on Play Dead

"I defy anyone to turn away from the page. I was glued to this book...a truly gripping and, at times, terrifying story."—Book Addict Shaun on Play Dead
Grand Central Publishing, 9781538749777, 400pp.
Publication Date: January 18, 2022
About the Author
Angela Marsons is the USA Today bestselling author of the Detective Kim Stone series, and her books have sold more than four million copies and have been translated into twenty-seven languages. She lives in the Black Country, in the West Midlands of England, with her partner and their two Golden Retrievers. She first discovered her love of writing at junior school when actual lessons came second to watching other people and quietly making up her own stories about them. Her report card invariably read "Angela would do well if she minded her own business as well as she minds other people's." After writing women's fiction, Angela turned to crime -- fictionally speaking, of course -- and developed a character that refused to go away.