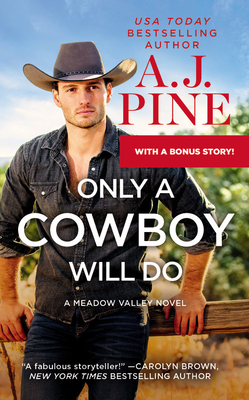 Only a Cowboy Will Do
Includes a Bonus Novella (Meadow Valley #3)
Mass Market

* Individual store prices may vary.
Description
A small-town woman is swept off her feet by a caring stranger in this charming western romance from a "fabulous storyteller" (Carolyn Brown, New York Times bestselling author).

Forty candles, and one for luck. Jenna Owens wants one thing for her birthday this year: a fairy-tale ending of her own and a little relaxation at a quaint California ranch. What she didn't want was to get caught in a storm on her way to Meadow Valley. Or to get stuck with a ridiculously hot, too-charming-for-his-own-good cowboy—one who makes Jenna reconsider her "I don't date younger guys" rule. But a little vacation flirtation might be just what she needs.

Colt Morgan isn't interested in long-term relationships. Not since his last one crashed and burned after his fiancée found out he wanted a big family. So when he learns that Jenna has a list of items to accomplish on her trip—including having fling—Colt is all too happy to oblige. Yet the more he and Jenna get to know each other, the more Colt starts to wonder if maybe they have a chance at a real future. But when Jenna's past upends everything Colt thought he wanted, are all bets off? Or will they find a way to make both their dreams come true?

Includes the bonus novella Sealed with a Kiss by Melinda Curtis!
Praise For Only a Cowboy Will Do: Includes a Bonus Novella (Meadow Valley #3)…
"A fabulous storyteller who will keep you turning pages and wishing for just one more chapter at the end."—Carolyn Brown, New York Times bestselling author, on Second Chance Cowboy

"Cross my heart, this sexy, sweet romance gives a cowboy-at-heart lawyer a second chance at first love and readers a fantastic ride."—Jennifer Ryan, New York Times bestselling author, on Second Chance Cowboy

"Both new and returning readers will be pleased."—Publishers Weekly on Make Mine a Cowboy

"A sweet...love story."—Publishers Weekly on My One and Only Cowboy

"My One and Only Cowboy was an entertaining romance that was woven with wit and warmth."—GuiltyPleasuresBookReviews.com

"Cowboy to the Rescue delivers the goods!"—ReadAlltheRomance.com

"A steamy cowboy romance novel that is sure to warm your heart!"—LovelyLoveday.com on Hard Loving Cowboy

"Hard Loving Cowboy was a delightfully sexy read that made me want to go in search of a cowboy of my own."—KimberlyFayeReads.com

"Sweet and engrossing."—Publishers Weekly on Tough Luck Cowboy

"Light and witty."—Library Journal on Saved by the Cowboy

"Ms. Pine's character development, strong family building and interesting secondary characters add layers to the story that jacked up my enjoyment of Second Chance Cowboy to maximum levels."—USA Today Happy Ever After

"5 Stars! Top Pick! The author and her characters twist and turn their way right into your heart."—Night Owl Reviews on Second Chance Cowboy

"This is a strong read with a heartwarming message and inspiring characters."—RT Book Reviews on Second Chance Cowboy

"This book made me so happy! I swear I had a smile on my face the whole time I was reading."—LeighKramer.com on Worth the Wait

"There was some serious heat, some conflict, some miscommunication and a evening out to yield the ultimate happy ending a romance novel needs. Overall, the read flowed well and the characters are easy to like."—Ramblings of a Young PR Girl blog on Three Simple Words

"A winner for me from the very start."—Straight Shootin' Book Reviews on Six Month Rule

"A.J. Pine's writing is superb. I loved following the characters. Their struggles were real. The needs were strong. This is a romance that I recommend to all."—Romancing the Book on Six Month Rule

"Oh. Em. Gee. I started Six Month Rule and could not put it down. A.J. Pine has put in everything that I love about romance into a 280-page novel."—Books by Migs

"Top Pick! 4 1/2 Stars! I loved this story."—Harlequin Junkie on I Do
Forever, 9781538749869, 384pp.
Publication Date: March 30, 2021
About the Author
A librarian for teens by day and a romance writer by night, A.J. Pine can't seem to escape the world of fiction, and she wouldn't have it any other way. When she finds that twenty-fifth hour in the day, she might indulge in a tiny bit of TV to nourish her undying love of vampires, superheroes, and a certain high-functioning sociopath detective. She hails from the far-off galaxy of the Chicago suburbs.

You can learn more at:
AJPine.com
Twitter @AJ_Pine
Facebook.com/AJPineAuthor