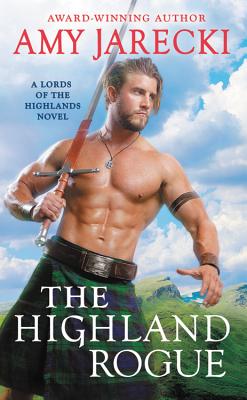 The Highland Rogue (Lords of the Highlands #7) (Mass Market)
Forever, 9781538750940, 368pp.
Publication Date: March 24, 2020
* Individual store prices may vary.
Description
A courageous Highlander falls for a strong-willed lass on the treacherous high seas in this action-packed Scottish romance.
After a vicious attack on his ship, Sir Kennan Cameron washes ashore on a deserted Scottish island, nearly dead. But he soon finds he's not as alone as he thought. Kennan knows he can't stay on the island, but neither can he leave the brave and bonny lass who has nursed him back to health -- even if she is from a rival clan.


Abandoned by her family, Divana Campbell is both terrified and relieved when a rugged Highlander drags himself from the surf. Trusting Kennan is her only chance for survival -- and by the time they arrive at his castle, she can barely imagine life without him. But as the heir to a powerful chieftain, Kennan could never marry the likes of her.

Together, they'll brave tempests, pirates, betrayal, and ruin. But soon Kennan must decide what matters most: his thirst for vengeance or the woman who's won his heart.

About the Author
Award-winning author Amy Jarecki likes to grab life, latch on, and reach for the stars. She's married to a mountain-biking pharmacist and has put four kids through college. She studies karate, ballet, yoga, and often you'll find her hiking Utah's Santa Clara Hills. Reinventing herself a number of times, Amy sang and danced with the Follies, was a ballet dancer, a plant manager, and an accountant for Arnott's Biscuits in Australia. After earning her MBA from Heroit-Watt University in Scotland, she dove into the world of Scottish historical romance and hasn't returned.
Praise For The Highland Rogue (Lords of the Highlands #7)…
"A compellingly crafted, vividly evoked historical romance that is expertly threaded through with a surfeit of potent danger and powerful desire."—Booklist

"The slow burn romance between Kennan and Divana in The Highland Rogue was a spark that turned into a raging inferno with added dashes of danger, action, and intrigue that coalesced into a mighty good read. I would highly recommend this story!"—The Genre Book Minx

"This book sucked me in and held me captive from the exciting, heart-pounding opening to the last beautifully romantic scene in the epilogue."—Flipping Pages

"With passion, precision, and consummate skill, Jarecki has penned an adventurous romance that is greatly enhanced by an exquisite depiction of life in the early 18th-century Scottish Highlands. Beautifully done."—Library Journal on The Highland Renegade

"Jarecki further enhances her reputation for crafting stellar Scottish romances by giving readers a knockout love story, with an action-packed plot richly imbued with colorful period details and a perfectly matched hero and heroine whose sensual exploits are hot enough to warm the coldest of Scottish nights."—Booklist on The Highland Renegade

"Flirtatious, sensuous romance and adventure fill the pages of this mesmerizing historical, and the undercurrent of Jacobite rebellion raises the tension."—Publishers Weekly on The Highland Renegade