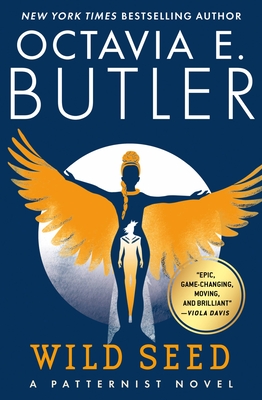 Wild Seed (Paperback)
Grand Central Publishing, 9781538751480, 320pp.
Publication Date: March 17, 2020
Other Editions of This Title:
Mass Market (2/1/1999)
Paperback (4/1/2001)
Hardcover, Korean (8/14/2019)
* Individual store prices may vary.
Description
In an "epic, game-changing, moving and brilliant" story of love and hate, two immortals chase each other across continents and centuries, binding their fates together -- and changing the destiny of the human race (Viola Davis).Doro knows no higher authority than himself. An ancient spirit with boundless powers, he possesses humans, killing without remorse as he jumps from body to body to sustain his own life. With a lonely eternity ahead of him, Doro breeds supernaturally gifted humans into empires that obey his every desire. He fears no one -- until he meets Anyanwu.Anyanwu is an entity like Doro and yet different. She can heal with a bite and transform her own body, mending injuries and reversing aging. She uses her powers to cure her neighbors and birth entire tribes, surrounding herself with kindred who both fear and respect her. No one poses a true threat to Anyanwu -- until she meets Doro. The moment Doro meets Anyanwu, he covets her; and from the villages of 17th-century Nigeria to 19th-century United States, their courtship becomes a power struggle that echoes through generations, irrevocably changing what it means to be human.
About the Author
OCTAVIA E. BUTLER was a renowned African-American writer who received a MacArthur "Genius" Grant and PEN West Lifetime Achievement Award for her body of work. She was the author of several award-winning novels including Parable of the Talents, which won the Nebula for Best Novel. Acclaimed for her lean prose, strong protagonists, and social observations in stories that range from the distant past to the far future, sales of her books have increased enormously since her death as the issues she addressed in her Afrofuturistic, feminist novels and short fiction have only become more relevant. She passed away on February 24, 2006.
Praise For Wild Seed…
PRAISE FOR OCTAVIA E. BUTLER'S NOVELS

"Brilliant, endlessly rich...pairs well with 1984 or The
Handmaid's Tale."—John Green, New York Times (on Parable of the Sower)

"Wild Seed is a book that shifted
my life . . . It is as epic, as game-changing, as moving and brilliant
as any science fiction novel ever written."—Viola Davis

"An
internationally acclaimed science fiction writer whose evocative, often
troubling, novels explore far-reaching issues of race, sex, power and, ultimately,
what it means to be human."—New York Times

"More than any novel I've ever read, Octavia Butler's Wild
Seed examines power, what it means to wield it responsibly and what it
means to resist it when it is wielded capriciously."—Rion Amilcar Scott, PEN/Robert W. Bingham Prize-winning author of Insurrections

"In the ongoing contest over which dystopian
classic is most applicable to our time, Octavia Butler's 'Parable' books may be
unmatched."—New Yorker (on Parable of the Sower)

"Butler is one of the finest voices in
fiction-period . . . A master storyteller with a voice that cradles and
captivates, Butler casts an unflinching eye on racism, sexism, poverty and
ignorance, and lets the reader see the terror and beauty of human nature."—Washington Post Book World

"Haunting
. . . apocalyptic . . . compelling."—Essence