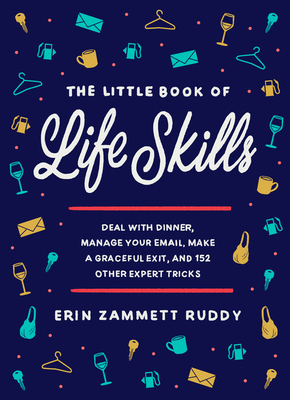 The Little Book of Life Skills
Deal with Dinner, Manage Your Email, Make a Graceful Exit, and 152 Other Expert Tricks
Hardcover

* Individual store prices may vary.
Other Editions of This Title:
Digital Audiobook (9/14/2020)
Description
With tips from leading experts in every field, The Little Book of Life Skills is the practical guide on how to solve the trickiest tasks in your day and make life a little easier.
We all have areas of our lives that make us feel disorganized, unprepared, or stressed out. From creating a calmer morning routine to setting yourself up for a good night's sleep, and everything in between, there are easy and proven ways to do things better. Whether you need advice on how to end an argument, iron a shirt, or keep your inbox under control, Erin Zammett Ruddy has spoken to experts including Rachael Ray, Dr. Oz, Arianna Huffington, and condensed their wisdom into easy to follow steps for all of life's simple and not-so-simple tasks, such as:
Working from Home Effectively
Keeping a Houseplant Alive
Giving Constructive Feedback
Arranging the Perfect Cheese Board, and many more
The Little Book of Life Skills
offers simple strategies for being better grown-ups. It's the perfect guide for anybody who wants to get organized, be more efficient throughout the day, and finally learn the best way to fold that #$% fitted sheet.
Praise For The Little Book of Life Skills: Deal with Dinner, Manage Your Email, Make a Graceful Exit, and 152 Other Expert Tricks…
"Never quite learned how to fold a sheet, end a tiff or stay productive working from home? Baffling basics, both large and small, are demystified here."—-People

"If you've ever struggled with making a great cheese board, exiting a party gracefully, or keeping a houseplant alive (um, guilty!), this is the book for you."—-Rachael Ray, Rachael Ray Magazine

"Wise ways to have a calmer morning, end an argument, clean your shower and more are covered in the fabulous Little Book of Life Skills."—-Parents

"I'll never iron a shirt the same way again"—-Rachel Hardage Barrett, Editor-in-Chief of Country Living
Balance, 9781538751701, 272pp.
Publication Date: September 15, 2020
About the Author
Erin Zammett Ruddy is a longtime magazine writer and editor who writes frequently for many major magazines. For 10 years she was a lifestyle editor at Glamour, where she wrote the award-winning Life With Cancer column. Currently, she's a contributing editor at Parents. In 2005, her acclaimed book My So-Called Normal Life was published by The Overloook Press. Erin is a frequent guest speaker, has raised hundreds of thousands of dollars for cancer research and has appeared on several television programs, including Nightline, The Today Show, Dateline and Good Morning America. She lives on Long Island with her husband and three young children.