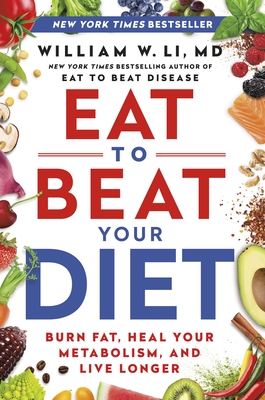 Eat to Beat Your Diet
Burn Fat, Heal Your Metabolism, and Live Longer
Hardcover

* Individual store prices may vary.
Other Editions of This Title:
Hardcover, Large Print (3/21/2023)
CD-Audio (3/21/2023)
Description
The pioneering physician scientist behind the New York Times bestseller Eat to Beat Disease reveals the science of eating your way to healthy weight loss.
In his first groundbreaking book, Dr. William Li explored the world of food as medicine. By eating foods that you already enjoy, like tomatoes, blueberries, sourdough bread, and dark chocolate your body activates its five health defense systems to fight cancer, diabetes, cardiovascular, neurodegenerative autoimmune diseases, and other debilitating conditions.
Now in Eat to Beat Your Diet, Dr. Li introduces the surprising new science of weight loss, revealing healthy body fat can help you lose weight; your metabolism at 60 can be the same as when you were 20; yo-yo dieting can be good for your health; 8-hour fasting windows can be as effective as 12-hour fasting windows; and losing just a little bit of weight can have big impacts on your health. Eat to Beat Your Diet shows readers how adding the right foods to your diet can heal your metabolism, reduce unhealthy body fat, and result in the kind of weight loss that can increase your lifespan and help you thrive. Foods like:
Tomatoes
Avocado
Watermelon
Carrots 
Blueberries
Dark Chocolate
Mushrooms
Lentils 
Purple Maize 
Apple Cider Vinegar 
Turmeric
Lobster
Mussel
Caviar
Oysters
Sea Bass 
Green Tea
Soy Milk
Coffee
Pomegranate Juice 
Both informative and practical, Dr. Li offers a four-week meal plan for food lovers; easy food swaps and shopping tips; and more than a month of crowd-pleasing recipes.
Praise For Eat to Beat Your Diet: Burn Fat, Heal Your Metabolism, and Live Longer…
"A groundbreaking physician shares how we can use food to hack our natural defense systems and hardwire ourselves for health."—Mehmet Oz, MD, Host, The Dr. Oz Show

"Dr. William Li is a healthcare pioneer... Dr. Li helps our readers thrive by unpacking how the body's own systems respond to what we eat. His book will give practical tips for healthier living and empower readers with ways they can help their bodies fight disease."—Arianna Huffington, Founder and CEO, Thrive Global

"In a new ground-breaking study—Eat to Beat Disease—Dr. William W. Li provides the knowledge and tools to make better decisions what to eat every day. This easy-to-read book is not a diet book but help you better understand what you eat."—The Washington Book Review

"An ode to one of life's greatest pleasures and a convincing case for a healthy appetite. This book will entertain, educate, devour and then empower you. Dr. William Li teaches us that we have radically underestimated our own power to transform and restore our health. This is a fascinating story of the power of food, a reflection on what we mean by health, and practical tool with the 5x5x5 framework to make sure we are around to enjoy life's pleasures for as long as possible."—Bono

"Unlike so many books that turn people away from the foods they enjoy, Eat to Beat Disease shows us how the foods we love actually support our wellbeing and vitality. I recommend that every health seeker read this new classic, and tell their friends and family all about it."—Mark Hyman, MD, Director, Cleveland Clinic Center
Balance, 9781538753903, 496pp.
Publication Date: March 21, 2023
About the Author
William W. Li, MD, is a world-renowned physician, scientist, speaker, and author. He is best known for leading the Angiogenesis Foundation. Dr. Li's groundbreaking work has impacted more than seventy diseases, including cancer, diabetes, blindness, heart disease, and obesity. His TED Talk, "Can We Eat to Starve Cancer?" has garnered more than eleven million views, and he has appeared on The Doctor Oz Show, The Martha Stewart Show, CNN, MSNBC, NPR, and Voice of America and has presented at the Vatican's Unite to Cure conference. An author of over one hundred scientific publications in leading journals such as Science, the New England Journal of Medicine, the Lancet, and more, Dr. Li has served on the faculties at Harvard, Tufts, and Dartmouth Medical School. Discover more at his website, www.drwilliamli.com.