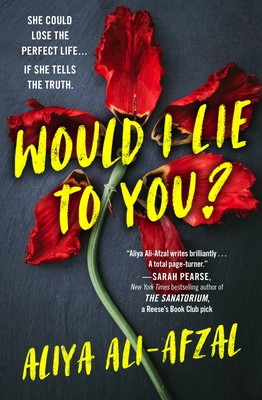 Would I Lie to You?
Paperback

* Individual store prices may vary.
Other Editions of This Title:
Digital Audiobook (7/7/2021)
Digital Audiobook (2/21/2022)
Description
In this "total page-turner," wife and mother Faiza is about to find what happens when you have your dream life and are about to lose it... but only if you're caught (Sarah Pearse, New York Times bestselling author of The Sanatorium).
At the school gates, Faiza fits in. It took a few years, but now the snobbish white mothers who mistook her for the nanny treat her as one of their own. She's learned to crack their subtle codes, speak their language of fashion and vacations and haircuts. You'd never guess, seeing her at the trendy kids' parties and the leisurely coffee mornings, that her childhood was spent being bullied and being embarrassed of her poor Pakistani immigrant parents.
When her husband Tom loses his job in finance, he stays calm. Something will come along, and in the meantime, they can live off their savings. But Faiza starts to unravel. Creating the perfect life and raising the perfect family comes at a cost – and the money Tom put aside has gone. Faiza will have to tell him she spent it all.  
Unless she doesn't...
It only takes a second to lie to Tom. Now Faiza has mere weeks to find $100,000. If anyone can do it, Faiza can.  She's had to fight for what she has, and she'll fight to keep it. But as the clock ticks down and Faiza desperately tries to put things right, she has to ask herself: how much more should she sacrifice to live someone else's idea of the dream life?
Praise For Would I Lie to You?…
"I just fell into this and couldn't stop... the writing is so fresh and light; funny in places, but moving in others... I just can't believe it's a debut! Ali-Afzal writes brilliantly and Faiza is so warm and relatable as a protagonist that you feel every one of her emotional ups and downs alongside her as you turn the page. The story is sharp and witty and so well-paced that I devoured this book in only two days. A total page-turner and one I'll be recommending to everyone I know."
 —New York Times and Sunday Times Bestseller and Reece's Bookclub pick February 2021 Sarah Pearse, author of The Sanatorium

"A fresh take on domestic dynamics and moral dilemma.  Great for book clubs!  I really enjoyed Would I Lie to You?"—Clare Mackintosh, New York Times bestselling author

"This page-turner is sure to get readers talking."—Publishers Weekly

"Would I Lie To You is a warm, intelligent, light yet poignant story of trying to keep up with your neighbors. Aliya Ali-Afzal depicts the moneyed, suburban world of south west London with a brilliantly wry, observational eye, and keeps up the tension right till the end."
 —Sophie Kinsella, New York Times bestselling author of I Owe You One

"I loved this… A warm, funny, compelling, escapist read - Faiza is a wonderful protagonist... not to be missed!"—Debbie Howells, Bestselling author of The Bones of You

"This book has it all: tension, humour, and a page-turning plot. The resourceful and endearing heroine, Faiza, will steal your heart. Aliya Ali-Afzal's stunning debut should be top of your reading pile this year!"—Lesley Kara, Bestselling author of The Rumor

"I absolutely loved it, so warm, funny, sad and brilliantly written."—Laura Marshall, Bestselling author of Friend Request

"'A refreshing new voice in commercial fiction"—Cosmopolitan

Aliya Ali-Afzal's tense, thought-provoking debut sizzles! WOULD I LIE TO YOU is clever and fresh and absolutely unputdownable! As Faiza's life spirals out of control, we follow her on a nail-biting quest to save her family from the gigantic hole she's dug for them all. Would I Lie to You provides a voyeuristic glimpse into wealthy suburbia, and the lengths we're willing to go to be accepted. A cautionary tale about greed, lies, and infidelity, and the nightmare that ensues when you succumb to all three. I was holding my breath while turning pages, waiting for this pressure-cooker of greed and lies and infidelity to explode! —Lori Nelson Spielman, New York Times Bestselling Author of The Star-Crossed Sisters of Tuscany

"A nail-biter all the way."—Toronto Star
Grand Central Publishing, 9781538755020, 480pp.
Publication Date: February 22, 2022
About the Author
Aliya Ali-Afzal lives in London and is studying for an MA in Creative Writing at Royal Holloway, University of London. Her writing has been longlisted for The Bath Novel Award, The Mslexia Novel Competition, The Mo Prize Hachette UK, and The Primadonna Prize. Aliya has a degree in Russian and German from the University of London. She has always lived in London, since moving there from Pakistan as a young child. Aliya worked as a head-hunter and then retrained as an Executive MBA career coach.