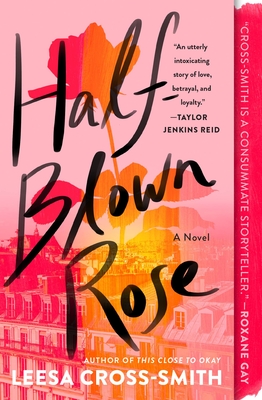 Half-Blown Rose
A Novel
Paperback

* Individual store prices may vary.
Other Editions of This Title:
Digital Audiobook (5/30/2022)
Hardcover (5/31/2022)
Library Binding, Large Print (10/12/2022)
Description
An irresistible story of a woman remaking her life after her husband's betrayal leads to a year of travel, art, and passion in Paris, from the award-winning author of This Close to Okay.
 
Vincent, having grown up as the privileged daughter of artists, has a lovely life in many ways. At forty-four, she enjoys strolling the streets of Paris and teaching at the modern art museum; she has a vibrant group of friends; and she's even caught the eye of a young, charismatic man named Loup. But Vincent is also in Paris to escape a painful betrayal: her husband, Cillian, has published a bestselling book divulging secrets about their marriage and his own past, hinting that when he was a teenager, he may have had a child with a young woman back in Dublin—before he moved to California and never returned.
 
Now estranged from her husband, Vincent has agreed to see Cillian again at their son's wedding the following summer, but Loup introduces new complications. Soon they begin an intense affair, and somewhere between dinners made together, cigarettes smoked in the moonlight, hazy evenings in nightclubs, and long, starry walks along the Seine, Vincent feels herself loosening and blossoming.
 
In a journey that is both transportive and intimate, Half-Blown Rose traverses Paris, art, travel, liminal spaces, and the messy complexities of relationships and romance, with excerpts from Cillian's novel, playlists, and journal entries woven throughout. As Cillian does all he can to win her back, Vincent must decide what she wants . . . and who she will be.
Praise For Half-Blown Rose: A Novel…
"Leesa Cross-Smith's richly vivid prose pulls you in and transports you to Paris. Sharp-edged and sexy, Half-Blown Rose is an utterly intoxicating story of love, betrayal, and loyalty."
 —Taylor Jenkins Reid, New York Times bestselling author of Malibu Rising

"With Half-Blown Rose, Leesa Cross-Smith has given us a brilliant, sexy, funny masterpiece. Reading her stunning prose is a full-blown experience. Within the deeply intimate worlds she conjures, she captures love, lust, and longing with such emotional intricacy and verve, I'm fairly certain I read this entire book with my hand pressed against my heart."
 —Deesha Philyaw, author of National Book Award 2020 finalist The Secret Lives of Church Ladies

"By far the most exhilarating and sexy American-in-Paris story I've ever read. Leesa Cross-Smith's Half-Blown Rose is smart, intriguing, and pure delight."
 —Lily King, New York Times bestselling author of Writers & Lovers

"Leesa Cross-Smith is a consummate storyteller."—Roxane Gay, New York Times bestselling author

"A story of love and betrayal set against the glittering backdrop of the City of Lights."—Atlanta Journal-Constitution

"A smoothly written, enjoyable novel that gives due to the social and emotional complexities of middle age. Vincent is a lovable protagonist; the narrative is also interspersed with her diary entries and letters, creating a self-aware, three-dimensional character. Cross-Smith sensitively explores the many permutations of romantic and platonic love and the idea that, especially in Paris, one's love may not be limited to a single other person. Charming and lively."—Kirkus Reviews

"Absolutely ripe for conversation, introspection and self-discovery...Cross-Smith is a confident, deft writer who is comfortable exploring any dynamic as long as she has a strong character to start with. Lucky for her, this too comes naturally, making her grander exaltations of love and passion feel every bit as fate-driven and heady as they do grounded and deeply raw and human....Perfect for readers of Miranda Cowley Heller, Emma Straub and Georgia Clark, HALF-BLOWN ROSE is a guaranteed summer steamer and a surefire book club pick for readers of all ages."—Bookreporter

"Cross-Smith continues to weave spellbinding tales of love and lust in the wake of adversity. . . [Vincent] is an utterly appealing heroine. Another winning novel."—Booklist

"A refreshing take on a woman's story of midlife upheaval." —Publishers Weekly

"This Close to Okay hits the ground running. Cross-Smith writes tenderly about the trial and error of intimacy and draws you in with enormous warmth and control."—Raven Leilani, New York Times bestselling author of Luster

"Leesa Cross-Smith writes the way many people wish they could: ferociously, tenderly, and with a tremendous amount of heart."—Kristen Arnett, New York Times bestselling author of Mostly Dead Things (on So We Can Glow)

"Leesa Cross-Smith has written a book to help us through these bleak and confusing times. This Close to Okay is a story of loneliness and wrenching loss, perfectly counterbalanced by the compassion of strangers and the love of family. This book is a hand-knitted sweater in the middle of a cold winter night."—Bryn Greenwood, New York Times bestselling author of The Reckless Oath We Made

"This Close to Okay is the kind of novel that allows the reader to slip into a world rich with both comforts and troubles. The story of Emmett and Tallie is delicious, romantic, cozy, and satisfying, and it's also mysterious, unstable, and loaded with loss. This book opens up hard emotions and truths, but it also offers moments of relief and attention to the sustaining pleasures of life."—Naima Coster, New York Times bestselling author of What's Mine and Yours

"Leesa Cross-Smith is a wonderful storyteller."—Alexia Arthurs, award-winning author of How to Love a Jamaican

"Leesa Cross-Smith is some sort of sorceress."—Rion Amilcar Scott, PEN/Robert W. Bingham Prize-winning author of Insurrections and The World Doesn't Require You

"Filled with heart and music playlists, Kentucky author Leesa Cross-Smith's Half-Blown Rose is the must-read romance of the summer."—Deep South Magazine

"Cross-Smith has given readers a very full banquet for character interactions . . . There are also reliable guiding stars for those familiar with Cross-Smith's fiction—sensitive and moving treatment of introverted women and biracial families, joyful sneaking-in of clever bon mots such as musical touchstones. But she is too fine a writer to let them grow stagnant from book to book. Her most experimental touches here—transcripts of text exchanges between the 40-somethings and adult children, excerpts from the husband's book, etc. . . can be expected to win over more readers."—LEO Weekly

"Irresistibly captivating." —Woman's World
Grand Central Publishing, 9781538755181, 416pp.
Publication Date: April 18, 2023
About the Author
Leesa Cross-Smith is a homemaker and the author of Every Kiss A War,Whiskey & Ribbons,So We Can Glow, and This Close to Okay. She lives in Kentucky with her husband and their two teenagers. Find more at LeesaCrossSmith.com.