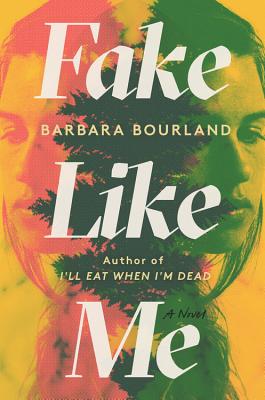 Fake Like Me
Hardcover

* Individual store prices may vary.
Other Editions of This Title:
Digital Audiobook (6/17/2019)
Compact Disc (6/18/2019)
Compact Disc (6/18/2019)
Description
From critically acclaimed author Barbara Bourland, comes an "impressively intelligent thriller," nominated for the Edgar Allan Poe Award, about a young painter who tracks the mysterious life and death of her role model, uncovering strange secrets that lead to the truth of her demise (Refinery29).

After a fire rips through her loft, destroying the seven billboard-size paintings meant for her first major exhibition, a young painter is left with an impossible task: recreate the lost artworks in just three months without getting caught -- or ruin her fledgling career. Homeless and desperate, she begs her way into Pine City, an exclusive retreat in upstate New York notorious for three things: outrageous revelries, glamorous artists, and the sparkling black lake where brilliant prodigy Carey Logan drowned herself.

Taking up residence in Carey's former studio, the painter works with obsessive, delirious focus. But when she begins to uncover strange secrets at Pine City and falls hard for Carey's mysterious boyfriend, a single thought shadows her every move: What really happened to Carey Logan?


Praise For Fake Like Me…
Nominated for the Edgar Allan Poe Award for Best Novel
Winner of Baltimore Magazine's 2019 Best Book of Baltimore
A HelloGiggles Best Book of June 2019

A Refinery29 Best Book of June 2019

A Cosmopolitan June 2019 Must-Have

A Fortune Summer 2019 Travel Pick

A Publishers Weekly Best Book of Summer 2019

A CrimeReads Best Crime Books of the Year (So Far)
A Toronto Star Hot Summer Thriller Pick
A Bookish Best Cover of 2019

"Bourland expertly shines a light on the nature of female ambition and desire and the often dark heart of inspiration. Readers fascinated with the blood, sweat, and tears of creating art will be especially rewarded."—Publishers Weekly, (Starred Review)

"Menacing, swirling, hypnotic ... A haunting, dizzying meditation on identity and the blurred lines between life and art."— Kirkus, (Starred Review)

"Bourland has an uncanny knack for spatial description and relates artwork and every last thing in Pine City--"half Dirty Dancing, half Twin Peaks"--with pristinely observed color and feeling. She also nails the creep factor, and her narrator's high tolerance for it, with foreboding signs that the no-name painter isn't totally welcome there, and that there's more to Carey's story. The deck stacked against her, the narrator tells the glitteringly compelling tale of her fevered summer and wisely reveals meaningful intersections of class, gender, and making art."—Booklist, (Starred Review)

"The creative process confronts reality in this compelling literary thriller centering on art, identity, and deception, as told in Bourland's (I'll Eat When I'm Dead) sharp prose. A must for those with an artistic bent, a sheer reading pleasure for all."—Library Journal (Starred Review)

"Fake Like Me is an impressively intelligent thriller set in the art world...Expect insightful paragraphs about the creative process sprinkled among the propulsive mystery."—Refinery29

"[A] page-turning story about art imitating life."—The Palm Beach Post

"The process creators go through for the sake of their art ranges from obsessive to self-destructive, and that ideology is escalated with Bourland's cutthroat prose... The unrelenting threat hovers through the plot and rigidly keeps the reader's head just above water until the end approaches."— Fangoria Magazine

"Bourland has an astonishing ability to write viscerally about art, culture, class, and landscape, for a work that's bound to be one of the summer's biggest crime/literary crossovers."—Literary Hub

"Bourland's terrific new novel engages with the quandary of what makes a work of art authentic."—Crime Reads

"Gripping, witty, and eye-opening."—Liv Constantine, author of The Last Mrs. Parrish

"In Bourland's decadent twist on the classic campus novel, a group of struggling artists succeed beyond their wildest dreams, but at what cost? Gloriously mordant and glittering."—Courtney Maum, author of Touch

"[A] razor-sharp exploration of the tension between the desire to make art and the desire to make money. FAKE LIKE ME is satirical, brilliantly realized, and has a twist you simply won't see coming..."—Louise O'Neill, author of Only Ever Yours

"A ridiculously propulsive 'du Maurier-esque' literary thriller. Could. Not. Put. It. Down."—Lisa Gabriele, author of The Winters

"Drop everything to follow Bourland's brilliant narrator to Pine City, the upstate artist colony with its crumbling camp buildings and secret histories. You will not see the art world--or a woman's place in it--the same way again."—Maria Hummel, Author of Still Lives

"Bourland raises a magnifying glass to the contemporary art world in this compelling satire...It's a penetrating, insightful discourse into what it means to be a practicing artist navigating the cut-throat art world...Your jaw will drop more than a few times throughout Bourland's story, which is painted with rich imagery, exquisite details, and sensual delight."—Baltimore Magazine

"Glittering with wit and mystery, Fake Like Me is more than an immensely readable portrait of an artist-it shatters expectations with pointed satire and structural daring."—Hyperallergic

"Barbara Bourland's sophomore release is brilliant, fast-moving mystery-satire of the contemporary art world. Fake Like Me checks all the boxes: smart, fun, sexy, witty, with unforgettable characters, all while providing social commentary on navigating the arts---how difficult it is to walk the line between being authentic and being a commodity."—Baltimore Magazine

"[A] compelling read that, like the best art, feels like more than the sum of its parts."—Texas Monthly
Grand Central Publishing, 9781538759516, 368pp.
Publication Date: June 18, 2019
About the Author
Barbara Bourland is the author of the critically acclaimed I'll Eat When I'm Dead, a Refinery29 Best Book of 2017 and an Irish Independent Book of the Year. People called I'll Eat When I'm Dead "delectable." Wednesday Martin, bestselling author of Primates of Park Avenue and Untrue, deemed it "a deft, smart, and hilarious debut." Kirkus noted that "death by beauty was never so much fun," and the book was featured in Fortune, Us Weekly, and the New York Post, among others. I'll Eat When I'm Dead is now available in paperback, and is forthcoming in Hebrew from Matar Press in Israel.

Bourland is a former freelance writer and web producer for titles at Condé Nast and Hearst, among others. She lives in Baltimore with her husband and dog.

Her second novel, Fake Like Me, is forthcoming in June 2019 from Grand Central Publishing in North America and from riverrun abroad. Fake Like Me was written with support from The Wassaic Project in Wassaic, NY, where Bourland was a resident over the winter of 2017-2018.