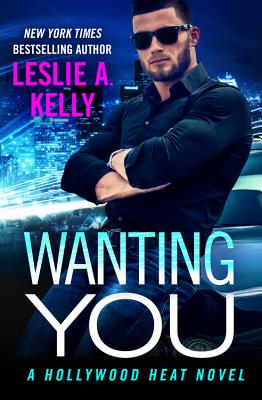 Wanting You (Hollywood Heat #2) (Paperback)
Forever Yours, 9781538761243, 368pp.
Publication Date: July 31, 2018
* Individual store prices may vary.
Description
No celebrity secret stays buried for long in USA Today bestselling author Leslie A. Kelly's sexy and suspenseful Hollywood Heat series.
A cold case is suddenly too hot to handle
Police officer Rowan Winchester wants nothing to do with his family's A-list Hollywood legacy. Working with the LAPD is his way of atoning for the Winchesters' dark and secretive past. And, right now, the last thing Rowan needs is true-crime novelist Evie Fleming nosing around the most notorious deaths in Los Angeles - including the ones that haunt his own family.
To make things worse, he's torn between wanting the wickedly smart writer out of his city... and just plain wanting her.
While researching her latest book, Evie suspects that a dangerous new killer is prowling the City of Angels. Now she just has to convince the devastatingly handsome cop that she's right. Soon Evie and Rowan are working together to try to find the killer, even as their attraction ignites.
But when the killer hones in on Evie, she and Rowan realize they'll have to solve this case fast if they want to stay alive.
The Hollywood Heat series:
Watching You
Wanting You
Waiting for You
Praise for Wanting You:
"Wanting You hit on all my favorite things about a romantic suspense with the action starting on the very first page. ... it is my favorite romantic suspense book I've read this year. 5 stars. A+" -Blogging by Liza
"Wanting You has everything I like in contemporary romances - murder mystery, hot guy in a uniform, and romantic tension. Leslie Kelly has me hooked! I can't wait to see what she writes next." -Lady with a Quill
"Wanting You had both romance and suspense keeping me turning the pages well into the night." -Berryman Fine Books
"Intriguing, gripping romantic suspense!" -Keeper Bookshelf
About the Author
Leslie Kelly is a New York Times and USA Today bestselling author of more than fifty novels and novellas. Known for their sexy humor, Leslie's books have been honored with numerous awards, including the National Reader's Choice Award, the Aspen Gold, the Golden Quill, the Write Touch, the Romantic Times Award, and four RWA-Rita nominations. Leslie is also a Career Achievement Award winner from Romantic Times Magazine.
Although she has spent most of her life in Maryland and Florida, Leslie currently resides in Colorado with her husband and two fluffy, yappy little dogs.