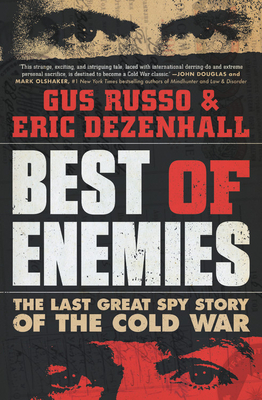 Best of Enemies (Paperback)
The Last Great Spy Story of the Cold War
Twelve, 9781538761335, 352pp.
Publication Date: October 1, 2019
Other Editions of This Title:
Hardcover (10/2/2018)
Compact Disc (10/2/2018)
Compact Disc (10/2/2018)
* Individual store prices may vary.
Description
The thrilling story of two Cold War spies, CIA case officer Jack Platt and KGB agent Gennady Vasilenko -- improbable friends at a time when they should have been anything but.
In 1978, CIA maverick Jack Platt and KGB agent Gennady Vasilenko were new arrivals on the Washington, DC intelligence scene, with Jack working out of the CIA's counterintelligence office and Gennady out of the Soviet Embassy. Both men, already notorious iconoclasts within their respective agencies, were assigned to seduce the other into betraying his country in the urgent final days of the Cold War, but instead the men ended up becoming the best of friends-blood brothers. Theirs is a friendship that never should have happened, and their story is chock full of treachery, darkly comic misunderstandings, bureaucratic inanity, the Russian Mafia, and landmark intelligence breakthroughs of the past half century.
In BEST OF ENEMIES, two espionage cowboys reveal how they became key behind-the-scenes players in solving some of the most celebrated spy stories of the twentieth century, including the crucial discovery of the Soviet mole Robert Hanssen, the 2010 Spy Swap which freed Gennady from Soviet imprisonment, and how Robert De Niro played a real-life role in helping Gennady stay alive during his incarceration in Russia after being falsely accused of spying for the Americans. Through their eyes, we see the distinctions between the Russian and American methods of conducting espionage and the painful birth of the new Russia, whose leader, Vladimir Putin, dreams he can roll back to the ideals of the old USSR.
About the Author
Gus Russo is the author of nine books, including Supermob: How Sidney Korshak and His Criminal Associates Became America's Hidden Power Brokersand The Outfit: The Role of Chicago's Underworld in the Making of Modern America. He has written for theBaltimore Sun, Nation, Washington Post, Book Forum, Variety, and Huffington Post.

Eric Dezenhall is the author of ten books, including Glass Jaw: A Manifesto for Defending Fragile Reputations in an Age of Instant Scandal, and Damage Control: Why Everything You Know about Crisis Management Is Wrong (with John Weber). He has written for publications including the New York Times, Wall Street Journal, Washington Post, LA Times, New Republic, and Huffington Post.


Praise For Best of Enemies: The Last Great Spy Story of the Cold War…
"Fast paced and lively."—The New York Times


p.p1 {margin: 0.0px 0.0px 0.0px 0.0px; text-align: center; font: 12.0px Arial}



"This strange, exciting and intriguing tale, laced with international derring-do and extreme personal sacrifice, is destined to become a Cold War classic."— p.p1 {margin: 0.0px 0.0px 0.0px 0.0px; text-align: center; font: 12.0px Arial} John Douglas and Mark Olshaker, #1 New York Times bestselling authors of Mindhunter and Law & Disorder

"This book is crucial for anyone who wants to understand espionage or the Cold War."— p.p1 {margin: 0.0px 0.0px 0.0px 0.0px; font: 12.0px Arial} James Grady, New York Times bestselling author of Six Days of the Condor

"If John le Carré wrote nonfiction and was a great reporter, BEST OF ENEMIES would be the result."—Laurence Leamer, New York Times bestselling author of The Kennedy Women


p.p1 {margin: 0.0px 0.0px 0.0px 0.0px; line-height: 18.0px; font: 16.0px Helvetica; color: #212121; -webkit-text-stroke: #212121; background-color: #ffffff}
span.s1 {font-kerning: none}



"It's not often you come across a book that's engrossing, topical and instructive; BEST OF ENEMIES is all of those things, and then some. Empathy is never easy -- as this book makes abundantly clear -- but if there were more of it in the world today, we'd all be better off. A must read."—Ian Bremmer, bestselling author of Us vs. Them, Superpower, and The J Curve


p.p1 {margin: 0.0px 0.0px 0.0px 0.0px; line-height: 17.0px; font: 14.7px Arial; color: #000000; -webkit-text-stroke: #000000; background-color: #ffffff}
span.s1 {font-kerning: none}



"BEST OF ENEMIES is a knockout thriller about one of the great yarns in international espionage: how an American CIA agent and a Russian KGB agent wound up on the same side. You have to read it to believe it."—Tom Brokaw


p.p1 {margin: 0.0px 0.0px 0.0px 0.0px; line-height: 15.0px; font: 13.3px Arial; color: #000000; -webkit-text-stroke: #000000; background-color: #ffffff}
span.s1 {font-kerning: none}



"BEST OF ENEMIES is a riveting spy thriller and love story -- and best of all, it is a true one! The incredible tale of the deep and enduring friendship of CIA legend 'Cowboy' Jack Platt and charismatic KGB spy Gennady Vasilenko frames a mesmerizing journey thorugh the Cold War that did more than entertain me -- it also gave me more insight into the intelligence world in the US and Russia than anything else I have read."—Norman Ornstein, resident scholar, American Enterprise Institute


p.p1 {margin: 0.0px 0.0px 0.0px 0.0px; line-height: 17.0px; font: 14.7px Helvetica; color: #212121; -webkit-text-stroke: #212121; background-color: #ffffff}
span.s1 {font-kerning: none}



"Cowboys and commies -- sworn adversaries Jack (CIA) and Gennady (KGB) save each other's lives and become the best of friends. Guns, girls, and gulags -- and the iconic Robert De Niro in a real-life role -- delivered by two of Washington's most savvy insiders -- Eric Dezenhall and Gus Russo."— p.p1 {margin: 0.0px 0.0px 0.0px 0.0px; line-height: 17.0px; font: 14.7px Helvetica; color: #212121; -webkit-text-stroke: #212121; background-color: #ffffff} span.s1 {font-kerning: none} Richard Ben-Veniste, Watergate Special Prosecutor, Member 9/11 Commission


p.p1 {margin: 0.0px 0.0px 15.0px 0.0px; line-height: 22.8px; font: 21.3px Tahoma; color: #212121; -webkit-text-stroke: #212121; background-color: #ffffff}
span.s1 {font-kerning: none}



"BEST OF ENEMIES is the ultimate true-life spy tale. Gus Russo and Eric Dezenhall have written a rollicking Cold War thriller centered around the most crazily improbable of friendships -- between top spies at the CIA and KGB. Russo and Dezenhall's deep reporting, including interviews with the spies themselves, proves again that fiction has nothing on truth. A wild cast of characters; even Robert De Niro makes an appearance. Important and entertaining."—Philip Shenon, New York Times bestselling author of A Cruel and Shocking Act: The Secret History of the Kennedy Assassination and The Commission: The Uncensored History of the 9/11 Investigation

"A compelling Cold War fable that illuminates the essence of a human recruitment operation: the unshakable friendship between two men that endured in the Wilderness of Mirrors."
p.p1 {margin: 0.0px 0.0px 0.0px 0.0px; line-height: 18.0px; font: 16.0px Times; color: #212121; -webkit-text-stroke: #212121; background-color: #ffffff}
span.s1 {font-kerning: none}
—Jason Matthews, New York Times bestselling author of The Red Sparrow spy novels and 33-year CIA veteran trained by Jack Platt

"An informative and exciting history for the general reader and for the espionage expert alike."—Publishers Weekly

"A rollicking tale of Cold War espionage...An unusual, entertaining story of steadfast friendship amid governmental treachery."—Kirkus

"BEST OF ENEMIES is rich in detail that espionage aficionados will enjoy -- including CIA cryptonyms, tradecraft, and details of Russian abuse of those they suspect of disloyalty...[The] biggest contribution of the book, however, is its depiction of the long game of intelligence, played out not in months or years, but in decades; the toll on the personal lives of not only the participants, but of their families; and the uplifting message that intelligence officers (at least initially) on opposite sides of the battle can find friendship and common values in each other."—The Cipher Brief

"[An] engrossing tale...highly recommended for those who miss the show The Americans and others who immerse themselves in intelligence intrigue."—Library Journal

"Perfect for the person who's still mourning the end of 'The Americans' and its bromance between Stan Beeman and Philip Jennings."—New York Post