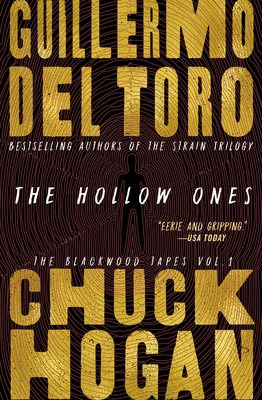 The Hollow Ones
Paperback

* Individual store prices may vary.
Other Editions of This Title:
Digital Audiobook (8/3/2020)
Mass Market (11/30/2021)
Hardcover (8/4/2020)
Hardcover, Large Print (8/4/2020)
CD-Audio (8/11/2020)
Description
A horrific crime that defies explanation, a rookie FBI agent in uncharted territory, and an extraordinary hero for the ages: an investigation spirals out of control in this heart-pounding thriller.
Odessa Hardwicke's life is derailed when she's forced to turn her gun on her partner, Walt Leppo, a decorated FBI agent who turns suddenly, inexplicably violent while apprehending a rampaging murderer. The shooting, justified by self-defense, shakes the young FBI agent to her core. Devastated, Odessa is placed on desk leave pending a full investigation. But what most troubles Odessa isn't the tragedy itself -- it's the shadowy presence she thought she saw fleeing the deceased agent's body after his death.
Questioning her future with the FBI and her sanity, Hardwicke accepts a low-level assignment to clear out the belongings of a retired agent in the New York office. What she finds there will put her on the trail of a mysterious figure named Hugo Blackwood, a man of enormous means who claims to have been alive for centuries, and who is either an unhinged lunatic, or humanity's best and only defense against unspeakable evil.
From the authors who brought you The Strain Trilogy comes a strange, terrifying, and darkly wondrous world of suspense, mystery, and literary horror. The Hollow Ones is a chilling, spell-binding tale, a hauntingly original new fable from Academy Award-winning director Guillermo del Toro and bestselling author Chuck Hogan featuring their most fascinating character yet.
Praise For The Hollow Ones…
PRAISE FOR THE HOLLOW ONES:
"The central aesthetic decision -- merging the classical horrors of Algernon Blackwood with a distinctly contemporary narrative -- is both surprising and ultimately successful. The Hollow Ones is a swift, thoroughly imagined entertainment that looks back at the genre's past while hinting, in the final pages, of future installments to come. The possibilities are limitless."—Washington Post

"Fans of Oscar-winner Guillermo del Toro -- the co-writer with Chuck Hogan -- will appreciate the focus on the monsters at the center of the tale. . . The book is a quick read, with propulsive action and just enough explication to keep readers interested. . . del Toro and Hogan ground the story in just enough reality to keep you turning the pages."—Associated Press

"A transporting, pageturning thriller that rips open a brand new universe, filling it with suspense. Guillermo del Toro and Chuck Hogan have a dark vision to share -- and they've created quite a duo in Hugo Blackwood and Odessa Hardwicke, a Sherlockian partnership for the ages."—Brad Meltzer, #1 NYT bestselling author of The Escape Artist

"If one could combine the world-conjuring magic of C. S. Lewis with the dark energy of Thomas Harris, one would be at least part of the way to understanding what makes THE HOLLOW ONES so special. Guillermo del Toro and Chuck Hogan have yet another twisted masterpiece on their hands. An enduring new series combining horror, suspense, and fable."—Stephen Chbosky, NYT bestselling author of The Perks of Being a Wallflower and Imaginary Friend

"A welcome gift to disciples of Lovecraft-ian fiction. Odessa Hardewick is cast in the mold of Clarice Starling. . . Inventive and macabre."—Kirkus

"Fans of Douglas Preston and Lincoln Child's Pendergast books will be enthralled."—Publishers Weekly
Grand Central Publishing, 9781538761755, 336pp.
Publication Date: February 23, 2021
About the Author
Guillermo del Toro was born in Guadalajara, Mexico, in 1964. He is the director of the films Cronos, Mimic, The Devil's Backbone, Blade II, Hellboy, Hellboy II, Pacific Rim, and Pan's Labyrinth, which garnered enormous critical praise worldwide and won three Academy Awards, and The Shape of the Water, which won the 2018 Oscar Award for Best Picture.
Chuck Hogan is the author of several acclaimed novels, including Devils in Exile and Prince of Thieves, which won the 2005 Hammett Award, was named one of the ten best novels of the year by Stephen King, and was the basis of the motion picture The Town.