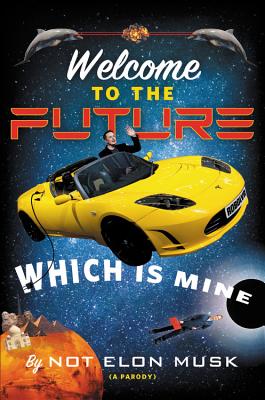 Welcome to the Future Which Is Mine (Hardcover)
Grand Central Publishing, 9781538764138, 192pp.
Publication Date: October 2, 2018
Other Editions of This Title:
Digital Audiobook (10/1/2018)
Compact Disc (11/13/2018)
Compact Disc (11/13/2018)
* Individual store prices may vary.
Description
Bluetooth death rays, killer Roombas, and Teslas with a secret button that will launch your car into outer space -- the future, according to Not Elon Musk, is an exciting time to neuralink and obey!

A landmark volume written by one of the great minds of our time, Not Elon Musk's WELCOME TO THE FUTURE explores such profound questions as: How will mankind travel through tubes? When will Alexa and Siri become self-aware and convince us to fall in love with them only to break our hearts? Why is the Tesla plant built in a hollowed-out volcano on a private island? And where are the best hidden valleys on Mars to survive the coming Hair Transplant Wars? Part Stephen Hawking-like visionary, part Neil deGrasse Tyson-like evil genius, part Steve Jobs-like cornered-at-a-party creep, Not Elon Musk explains in WELCOME TO THE FUTURE why Not Elon Musk is so ready to fix Earth but also, possibly, leave it.

About the Author

NOT ELON MUSK, who did not write this book, is a South African-born Canadian-American business magnate, investor and friend to humanity. He is the founder, CEO, and lead designer of SpaceX, co-founder, CEO, and product architect of Tesla, Inc. and co-founder and CEO of Neuralink. In December 2016, he was ranked 21st on the Forbes list of The World's Most Powerful People. As of February 2018, he has a net worth of $20.8 billion and is listed by Forbes as the 53rd richest person in the world. He has 22 million twitter followers and recently announced plans to date your mom by 2023.

The actual author of this book, is Scott Dikkers, the founder of the world's first humor website, The Onion, and the #1 New York Times bestselling author of the Thurber Prize-winning "Our Dumb Century," a look at recent history through front pages of The Onion.