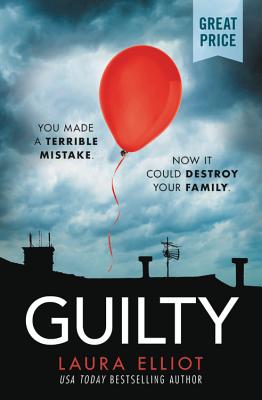 Guilty (Paperback)
Grand Central Publishing, 9781538764275, 400pp.
Publication Date: May 7, 2019
Other Editions of This Title:
Paperback (6/22/2017)
* Individual store prices may vary.
Description
A gripping and suspenseful psychological thriller that Booklist calls "intriguing from start to finish," perfect for fans of New York Times bestselling authors Paula Hawkins and Gillian Flynn.
It begins with a phone call. It ends with a missing child.
On a warm summer's morning, thirteen-year-old school girl Constance Lawson is reported missing. A few days later, Constance's uncle, Karl Lawson, suddenly finds himself swept up in a media frenzy created by journalist Amanda Bowe implying that he is the prime suspect.
Six years later ...
Karl's life is in ruins. His marriage is over, his family destroyed. But the woman who took everything away from him is thriving. With a successful career, husband and a gorgeous baby boy, Amanda's world is complete. Until the day she receives a phone call and in a heartbeat, she is plunged into every mother's worst nightmare.
"Intriguing from start to finish, with meaty characters and unrelenting suspense." --Booklist
About the Author
Laura Elliot was born in Dublin, Ireland. She lives in Malahide, a picturesque, coastal town on the north side of Dublin.
Writing as June Considine, she has twelve books for children and young adults. Her short stories have appeared in a number of teenage anthologies and have also been broadcast on the radio. She has also worked as a journalist and magazine editor.
Praise For Guilty…
"Intriguing from start to finish, with meaty characters and unrelenting suspense."
—
Booklist
Guilty
is one gripping psychological thriller with a well-constructed plot and realistic and believable characters...Incredibly thought-provoking, it'll make you question everything.—
Novel Deelights on Guilty
I was gripped from the first few pages and found myself hooked on a rollercoaster ride up to the last few pages ... I read it in pretty much one sitting, I just needed to know how the book was going to end.—
Donna's Book Blog on Guilty
"
Guilty
was such a great book. It was filled with so many twists and turns...It was well written and definitely made you wanting more with every page turn."—
Oh My Lit on Guilty
"A mesmerizing psychological thriller...and will leave you completely fulfilled with a flawless ending. Guilty is the first novel I have read by Laura Elliot and it will NOT be my last. I found
Guilty
to be impossible to put down, the characters are intoxicating, and the story compulsively addictive."—
Books and Smiles on Guilty
"My emotions were in overdrive...absolutely gripping - one of my best reads of the year so far."—
Literary Lighbox on Sleep Sister
"This is a tense and breathtakingly emotional story of the fierce bond between sisters, and a family destroyed by a harrowing and disturbing secret."—
Donna's Book Blog on Sleep Sister
"A gripping tale of adultery and illusion."—
Evening Herald on The Betrayal
"The story is beautifully descriptive...one of those truly unforgettable stories which you just want to tell everyone to read for themselves."—
Jaffa Reads Too on The Betrayal
"I was astounded at how the book ended! Not many books make me say wow at the end, but this one has me repeating it. It is an ending that you won't see coming in a million years."—
Kelly's Book Corner on The Betrayal
"
Fragile Lies
has a little bit of everything, love, tragedy, infidelity, lies and secrets... Excellent plot, interesting characters and plenty of intrigue."—
Dot Scribbles on Fragile Lies
"A wonderful story incredibly well told, full of secrets, love and illusion, lies and revenge, which will keep you gripped well into the early hours..."—
Being Anne on Fragile Lies
"A bittersweet tale of love and heartache."—
Evening Echo on Stolen Child
"An entertaining and highly thought-provoking tearjerker."—
Closer magazine on Stolen Child
"A page-turner...has all the ingredients of a bestseller."—
RTE Culture on The Lost Sister
"This page-turner is gripping, all the more because it presents the dilemmas of betrayal with brutal honesty."—
Irish Independent on The Lost Sister
"This well-crafted and compelling story traces the deceits which begin unnoticed but end in the destruction of friendships and lives."—
The Irish Times on The Lost Sister