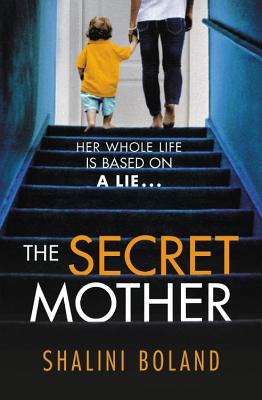 The Secret Mother (Paperback)
Grand Central Publishing, 9781538764367, 256pp.
Publication Date: June 4, 2019
* Individual store prices may vary.
Description
Are you my mommy?
Tessa Markham returns home to find a child in her kitchen. He thinks she is his mother. But Tessa doesn't have any children.
Not anymore.
She doesn't know who the little boy is or how he got there. After contacting the police, Tessa is suspected of kidnapping the mystery child. Her whole life is turned upside down. And then her husband reveals a secret of his own...
Tessa isn't sure what to believe or whom to trust. Because someone is lying. To find out who, she must first confront her painful past. But is the truth more dangerous than Tessa realizes?
The Secret Mother is an intense psychological thriller with a twist that will make you wonder if you can ever trust anyone again.
About the Author
Shalini Boland is a USA Today bestselling author of psychological thrillers The Girl from the Sea, The Best Friend, The Millionaire's Wife, and The Child Next Door. Shalini lives in Dorset, England with her husband, two children, and their cheeky terrier mix. Before kids, she was signed to Universal Music Publishing as a singer/songwriter, but now she spends her days writing suspense thrillers in between school runs and endless baskets of laundry. She is also the author of two bestselling young adult series as well as a children's World War II novel with a time-travel twist.
Praise For The Secret Mother…
"Utterly gripping to the last page and full of twists and turns to keep the reader guessing. A fantastic thriller!"—Sarah A. Denzil, author of #1 bestseller Silent Child

"Absolutely
loved this amazing book! One of the best psychological thrillers I have read!"—Renita D'Silva, author of Monsoon Memories

"Shalini Boland is without a doubt the queen of twists
and she never disappoints."

—BytheLetterBookReviews.com

"A
roller-coaster of emotion until the very end. The Secret Mother is the first book I have read by Shalini Boland,
but it won't be the last."

—TheBlondePlotters.com

"I loved the way Boland created tension here...so nail-biting-ly good! This was an excellent psychological thriller filled with uneasiness, doubt and a huge pack of lies."—NovelGossip.com

"This
was a real page turner for me, I had absolutely no idea where the story was
going and was left shocked by the reveal at the end. A thoroughly fantastic
book which I personally found hard to put down."—CompulsiveReaders.com

"Shalini
Boland is one of those authors who constantly delivers and I have no doubt fans
of her previous books will enjoy this twisty tale of secrets, betrayal and
revenge as well."
—NovelDelights.com

"Gripping, chilling and twisty, The Secret Mother took me hostage and I couldn't put it down. If you love a fast-paced, yet emotional thriller with a relatable protagonist, this is the book for you."—Christina-McDonald.com

"5 stars! The book starts with a bang... from page one and believe me, it doesn't let up throughout the book and keeps you gripped until the very end!"—StardustBookReviews.wordpress.com

"5 Stars! Wow, I was on the edge of my seat with the suspense from this book. I felt the hairs on the back of my neck go up and my heart raced a mile a minute."—TouchMySpineBookReviews.com

"Shalini Boland has a great suspenseful writing style. She knows how to describe deep and dark emotions and combines them with an intriguing mystery. I liked how well Tessa's character comes to life; it was practically possible to feel what she feels and see what she sees. I was both moved and captivated by her story."—WithLoveForBooks.com

"Wow, wow and wow! What a read! Gripping from start to end and a very clever plot that keeps you guessing all the way. As ever, Shalini has again found the perfect recipe; Intriguing to keep you guessing, characters that are believable and likeable, a touch of humour, a pinch of romance and short snappy chapters that keep you turning, wanting to find out more."—NickiBookBlog.blogspot.com