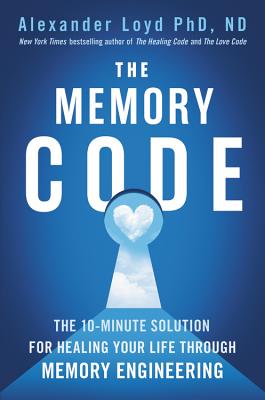 The Memory Code
The 10-Minute Solution for Healing Your Life Through Memory Engineering
Hardcover

* Individual store prices may vary.
Other Editions of This Title:
Digital Audiobook (10/7/2019)
Compact Disc (10/8/2019)
Description
International bestselling author of The Healing Code and The Love Code Dr. Alexander Loyd offers a radical new approach to mindfulness, a powerful tool called Memory Reengineering that enables users to level up their lives in as little as 10 minutes.
We have all had negative experiences in our lives, the memories of which can cause shame, embarrassment, fear, trauma, and worse. Those memories often prevent us from reaching our goals, whether they be related to weight, career, relationships, or success in other areas. But international bestselling author Alexander Loyd has developed a set of techniques that enable users to change the stories they tell about themselves to become healthier, happier, and more successful.
Memory Reengineering is a toolbox of skills that disconnect painful emotions from memories, replacing them with happier and healthier feelings. In The Memory Code, Dr. Loyd teaches readers that the past does not have to dictate the future. You can change your behaviors by changing the way you tell your story-and once you understand the process, you can begin to feel the effects in as little as 10 minutes. Whether you want to improve at work, fix your relationships, end an addiction, or just finally move past painful memories to achieve self-growth, The Memory Code will give you the power to change.
Praise For The Memory Code: The 10-Minute Solution for Healing Your Life Through Memory Engineering…
"The Memory Codeoffers a totally new perspective on the obstacles that can block us on a path to optimal wellness. Dr. Loyd has built a bridge of healing between the mind and the body using techniques that nobody else has to offer. Whether you're looking to reduce anxiety, manage stress, or figure out how to make an elusive life change, Dr. Loyd can show you how to permanently improve your mental health."—JJ Virgin, New YorkTimes bestselling author of Miracle Mindset and The Virgin Diet

"When I have a problem not in my area of expertise, I call Dr. Alex. No one else anywhere does what he does, and after knowing and working with him for years, I trust him implicitly. Toxicity is not just a matter of physical health; your overall health can also be drastically impacted by your thoughts, your feelings, and even your memories. Memory reengineering is the only tool I know of that can actually detox your past, and prevent the trauma, disappointment, and fear of the past from sabotaging your current happiness. Alexander Loyd is the master of these tools, and in The Memory Codehe's delivered on the extraordinary promise to start healing your life in just 10 minutes."—Josh Axe, bestselling author of Eat Dirt and Keto Diet

"Memory Engineering is the future of emotional healing. We can't control what happens to us, but we can control how it impacts us. Losing weight, ending addiction, improving relationships, improving careers-you can really change these behaviors by altering your memories or more specifically, the way you relive and interpret them. The Memory Code is a groundbreaking program that will give you the tools you need to heal, recover, and thrive. I can also attest, after knowing and working with Alex for many years that you can trust him with your life and family, as I do."—Jordan Rubin, New York Times bestsellingauthor of The Maker's Diet & founder of Garden of Life andAncient Nutrition

"We all have memories that have shaped our lives for better or worse, but until The Memory Code we haven't had any control over how our past affects our future. Now step into Dr. Alex's 'Time Machine,' go back in time, and change the memories keeping you from your BEST LIFE!"—Robyn Openshaw, author of TheGreen Smoothie and founder of GreenSmoothieGirl

"The Memory Code is packed with valuable information which offers a new perspective and a holistic approach to transforming your healthby releasing and re-engineering your stored memories. Dr. Alex Loyd, renowned author, healer and energy healing pioneer, reveals how memories from your past may be affecting your health, your life, your relationships and your success. This easy to follow, step-by-step code will guide you through modifying your damaging negative memories, as well as those you have inherited from your ancestors, while giving you a deeper understanding of how your memories affect your emotional and physical health. Highly recommended!"—Dr. Bradley Nelson, author of The Emotion Code: How to Release Your Trapped Emotions for Abundant Health, Love and Happiness
Grand Central Publishing, 9781538764428, 320pp.
Publication Date: October 8, 2019
About the Author
Dr. Alexander Loyd, PhD, ND, is the international bestselling author of The Love Code and The Healing Code. He has been featured live on NBC, ABC, CBS, Fox, and PBS news programs as an expert in healing the source issues underlying disease and illness. Dr. Alex lectures all over the world and has built the largest whole life healing practice in the world, with hundreds of clients in 50 states and 167 countries (and counting).
He lives in Tennessee with his wife Hope and sons Harry and George.
or
Not Currently Available for Direct Purchase