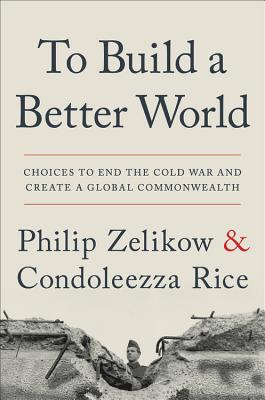 Ending the Cold War (Hardcover)
Uniting Germany, Transforming Europe, and Balancing the Global Order
Twelve, 9781538764671, 512pp.
Publication Date: September 17, 2019
* Individual store prices may vary.
About the Author
Philip Zelikow is an attorney, diplomat, academic, and author. He has worked as the executive director of the 9/11 Commission, director of the Miller Center of Public Affairs at the University of Virginia, and Counselor of the United States Department of State. He is the White Burkett Miller Professor of History at the University of Virginia and was American Academy in Berlin Axel Springer Fellow in the fall of 2009. Zelikow has served in the George H. W. Bush, George W. Bush, and Barack Obama administrations.
Condoleezza Rice was the sixty-sixth US secretary of state and the first black woman to hold that office. Prior to that, she was the first woman to serve as national security advisor. She is a professor at Stanford University and cofounder of RiceHadleyGates LLC. Rice is the author of No Higher Honor: A Memoir of My Years in Washington (2011) and Extraordinary, Ordinary People: A Memoir of Family (2010), both New York Times best sellers, and more recently, Democracy: Stories from the Long Road to Freedom (2017).
Praise For Ending the Cold War: Uniting Germany, Transforming Europe, and Balancing the Global Order…
PRAISE FOR PHILIP ZELIKOW AND CONDOLEEZZA RICE:
"Zelikow and Rice have drawn on thousands of still-classified documents in the American archives. But their industry has not stopped there: to tell the Soviet and German sides of the story, they consulted the East German and Russian archives and interviewed a host of European leaders. The quality of their writing and the depth of their research ensure that their exemplary study will serve as the starting point for all future work on German foreign policy after the Cold War."
—
New York Times Book Review
"An important behind-the-scenes account of how East Germany was folded into West Germany at breakneck speed -- an event that precipitated the demise of the Soviet Union."—
The New Yorker
"For the first time, the inside story -- what the policymakers thought and did behind the scenes -- is recounted by two participants, using interviews and secret documents...[The book] conveys the sweeping changes devised by a handful of leaders and their aides as they sought to capitalize on a rare, momentary acceleration of history. It also captures the candid exchanges among leaders about long-range fundamentals in Europe."—
International Herald Tribune