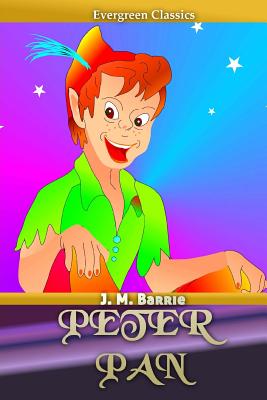 Peter Pan (Great Classics #42) (Paperback)
Createspace Independent Publishing Platform, 9781539063377, 112pp.
Publication Date: September 23, 2016
Other Editions of This Title:
Digital Audiobook (10/4/2006)
Digital Audiobook (9/11/2006)
Paperback (4/25/2017)
Paperback (9/25/2019)
Paperback (1/13/2009)
Paperback (10/30/2017)
Paperback (10/7/2016)
Paperback (1/13/2017)
Paperback (9/16/2018)
Paperback (10/19/2018)
Paperback (10/7/2018)
Paperback (6/9/2015)
Paperback (10/25/2017)
Paperback (7/1/2018)
* Individual store prices may vary.
Description
Classics for Your Collection: goo.gl/U80LCr --------- Peter Pan is a small boy who can never grow up. Why? Maybe it's because he lives in Neverland, or maybe it's because his mother forgot him. A boy who became dead to the world he deserted. He takes the Darling children - Wendy, John, and Michael - to the Neverland, where theirs dreams all come together. They fly there using Tink's fairy dust, to the second star to the right and straight on 'til morning. The sands of time dissolve under the feet of everyone except Peter Pan. In the end he lives on and rewards himself with lack of aging, but he forgets all and is forgotten by everyone. It is more of a magical moment that can't last. When the young die, they don't have to grow and face adulthood; they get to live with the magic of childhood forever in the memories of all who knew them when they were alive. There are the famous faces: Captain Hook who captures them all and is always looking to gain revenge on Peter; Tinkerbell who adores Peter and is reliant on the clapping of children to survive; Tiger Lily and her deadly crew and of course the Darling family waiting patiently and desperately at home while their children undertake the adventure of a lifetime. When you hear the name Peter Pan and Wendy, what does it remind you of? Happiness, childhood, innocence, flying away, love, and so much more right? That's exactly what this book makes you feel. It is beautiful and magical. The writing is amazing and it is so easy to understand. It makes you feel like you are living in the book and you are either: the Lost Boys, Hook, Peter, Wendy, Smee, or Tiger Lily. J. M. Barrie lost his brother at the age of six. From then on, he dedicated his every day to trying to make his mother laugh and filling the gap her other son left her. This incident defined Barrie's psychology and provided the very fabric he used to write Peter Pan And Peter Pan, true to his word, never grows up. True to his character he soon forgets about Wendy, returning many years later and fixing his attentions to her daughter, and later granddaughter. ------- "The difference between him and the other boys at such a time was that they knew it was make-believe, while to him make-believe and true were exactly the same thing. This sometimes troubled them, as when they had to make-believe that they had had their dinners." Scroll Up and Get Your Copy Timeless Classics for Your Bookshelf
(Available at Amazon's CreateSpace) Classic Books for Your Inspiration and Entertainment Visit Us at: goo.gl/0oisZU
About the Author
Sir James Matthew Barrie, 1st Baronet, OM (9 May 1860 - 19 June 1937) was a Scottish novelist and playwright, best remembered today as the creator of Peter Pan. He was born and educated in Scotland but moved to London, where he wrote a number of successful novels and plays. There he met the Llewelyn Davies boys, who inspired him to write about a baby boy who has magical adventures in Kensington Gardens (included in The Little White Bird), then to write Peter Pan, or The Boy Who Wouldn't Grow Up, a "fairy play" about an ageless boy and an ordinary girl named Wendy who have adventures in the fantasy setting of Neverland. Although he continued to write successfully, Peter Pan overshadowed his other work, and is credited with popularising the then-uncommon name Wendy. Barrie unofficially adopted the Davies boys following the deaths of their parents. Barrie was made a baronet by George V on 14 June 1913, and a member of the Order of Merit in the 1922 New Year Honours. Before his death, he gave the rights to the Peter Pan works to Great Ormond Street Hospital for Children in London, which continues to benefit from them.