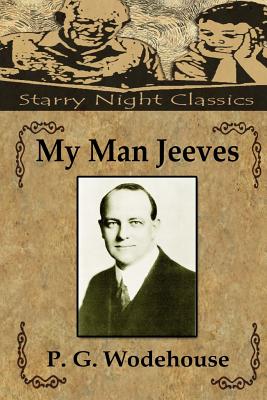 My Man Jeeves
Paperback

* Individual store prices may vary.
Other Editions of This Title:
Paperback (10/31/2016)
Paperback (5/1/1919)
Paperback (1/19/2021)
Paperback (10/28/2018)
Paperback (1/30/2020)
Paperback (10/20/2009)
Paperback (7/30/2008)
Paperback (6/8/2018)
Paperback (10/13/2018)
Paperback (2/20/2007)
Paperback (1/27/2015)
Paperback (10/18/2018)
Paperback (4/23/2020)
Paperback (2/25/2018)
Paperback (5/29/2017)
Paperback (6/27/2019)
Paperback (4/15/2014)
Paperback (2/25/2014)
Description
My Man Jeeves is a collection of short stories by P. G. Wodehouse, first published in the United Kingdom in May 1919 by George Newnes. Of the eight stories in the collection, half feature the popular characters Jeeves and Bertie Wooster, while the others concern Reggie Pepper, an early prototype for Wooster.
Createspace Independent Publishing Platform, 9781539163701, 158pp.
Publication Date: September 29, 2016
About the Author
Pelham Grenville Wodehouse was born on October 15, 1881, in Guildford, Surrey, England, one of four sons. At age three, "Plum," as he was called, was placed in the care of a nanny and raised in various boarding schools, seeing his parents a total of six months until age fifteen. After school, his father had him placed in a bank, but Pelham had no interest in banking and spent his time writing. He became a journalist with The Globe and contributed to various magazines. Then in 1907, he began contributing lyrics for musicals. In 1909, he moved to Greenwich Village, New York, selling stories to Cosmopolitan, Vanity Fair and The Saturday Evening Post. In 1914, Wodehouse married Ethel Wayman, adopting her daughter Leonora. He never had any biological children. In the 1930s he worked as a screenwriter in Hollywood and in 1934, the family moved to France. In 1939, as World War II broke out, he foolishly remained in France and the Nazis interned him as an enemy. While a prisoner, he entertained his fellow inmates and was released just before his 60th birthday. This led to rumors that he was a Nazi collaborator. To escape criticism, the family moved back to New York and Pelham became a U. S. citizen in 1955. He never returned to Britain, but kept writing for the rest of his life. In 1975, he was knighted, but due to his age, accepted from the British embassy. Wodehouse died on February 14, 1975, at the age of 93, from a heart attack, in New York City, still writing, answering fan mail and recording introductions to his television show. His last novel was published in 1977.