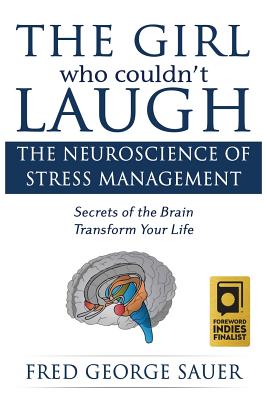 The Girl Who Couldn't Laugh (Paperback)
The Neuroscience of Stress Management: Secrets of the Brain Transform Your Life
Createspace Independent Publishing Platform, 9781539370208, 220pp.
Publication Date: October 10, 2016
* Individual store prices may vary.
Description
FOREWORD INDIES FINALIST
80% of all human disease is related to stress.
Every day, stress disrupts individual lives at school, work, and home.
Each year, stress costs businesses and the economy billions of dollars in lost productivity.
WHAT IF THERE WAS A NEW WAY TO EFFECTIVELY MANAGE STRESS?
This book explores the functioning of the
human brain
and shows why stress is a natural byproduct of the most basic human survival programming. It unravels the mysteries of the subconscious and explains the seeming irrationality and contradictions of the human condition. Most importantly, it shares a new technology that bridges the gap between problems and solutions. It allows
you to take control of your stress
and thereby improve your well-being, health and success by practicing simple yet
powerful techniques that will change your life.
HOW TO GET RID OF STRESS
If stress ruins your life ... if it makes you sick ...if you feel frustration, anxiety, fear, burnout ...this book is for YOU
Here is why ... You learn the latest Neuroscience of stress relief
How the brain creates stress deep in your subconscious
How you can now easily, in private, on your own, defeat that stress
IF YOU DON'T DO SOMETHING, IT WILL JUST GET WORSE
Stress creates a vicious cycle
It causes muscle tension, headaches, back pain, poor sleep, bad digestion, foggy thinking, weak memory, even bad breath and body odors
... and this makes your initial stress much worse
The latest Neuroscience confirms
Stress is behind 80% of disease
Stress ages you faster
Stress damages your genes
Stress can even kill you
... While conventional methods can help,
they do not defeat stress
Discover the new secret of getting rid of stress for good
Thousands of people have learned it already
Now it's your turn
READ THIS BOOK AND CHANGE YOUR LIFE:
Feel better, be healthier, look younger and be more successful
About the Author
Fred George Sauer is a coach and trainer for SciStress. Fred has over 30 years of business, management, coaching, and training experience. He holds two Master of Science degrees in Process Improvement and Engineering. He is not a therapist or a health professional; rather he is a highly effective coach and trainer. In that capacity, he has worked with many hundreds of people and dozens of groups. Fred often works with business professionals and their teams. He is an expert on addressing stress, performance, productivity, interpersonal and teamwork issues. In addition, Fred is very effective at helping individuals manage their own stresses and work successfully with their own personal trauma.