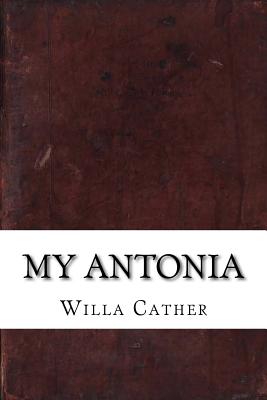 My Antonia (Paperback)
Createspace Independent Publishing Platform, 9781539390237, 232pp.
Publication Date: October 7, 2016
Other Editions of This Title:
Paperback (6/27/2017)
Paperback (7/4/2018)
Paperback (6/2/2018)
Paperback (6/28/2017)
Paperback (12/8/2016)
Paperback (8/8/2016)
Paperback (8/17/2017)
Paperback (4/11/2017)
Paperback (4/8/2018)
Paperback (6/27/2018)
Paperback (4/23/2018)
Paperback (6/5/2018)
Paperback (6/25/2017)
Paperback (11/22/2017)
Paperback (10/14/2016)
Paperback (9/7/2016)
Paperback (6/8/2018)
Paperback (5/8/2017)
* Individual store prices may vary.
Description
My Antonia (first published 1918) is considered the greatest novel by American writer Willa Cather. My Antonia - pronounced with the accent on the first syllable of "AntonIa" - is the final book of the "prairie trilogy" of novels by Cather, a list that also includes O Pioneers and The Song of the Lark.My Antonia tells the stories of several immigrant families who move out to rural Nebraska to start new lives in America, with a particular focus on a Bohemian family, the Shimerdas, whose eldest daughter is named Antonia.Wilella Sibert Cather (December 7, 1873 - April 24, 1947) is an eminent author from the United States. She is perhaps best known for her depictions of U.S. life in novels such as O Pioneers , My ntonia, and Death Comes for the Archbishop.