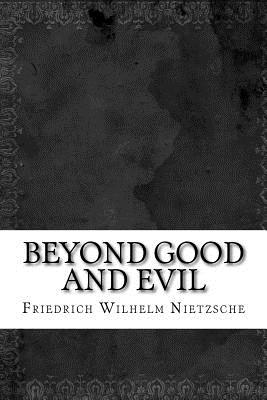 Beyond Good and Evil (Paperback)
Createspace Independent Publishing Platform, 9781539408949, 182pp.
Publication Date: October 9, 2016
Other Editions of This Title:
Paperback (4/28/2015)
Paperback (3/21/2017)
Paperback (9/16/2016)
Paperback (6/22/2016)
Paperback (3/20/2016)
Paperback (7/26/2017)
Paperback (7/5/2018)
Paperback (3/25/2017)
Paperback (12/3/2016)
Paperback (2/9/2018)
Paperback (8/17/2016)
Paperback (9/15/2017)
Paperback (3/4/2017)
Paperback (2/27/2018)
Paperback (8/9/2017)
Paperback (8/9/2017)
Paperback (3/20/2017)
Paperback (12/21/2016)
* Individual store prices may vary.
Description
Beyond Good and Evil (German: Jenseits von Gut und B se), subtitled "Prelude to a Philosophy of the Future" (Vorspiel einer Philosophie der Zukunft), is a book by the German philosopher Friedrich Nietzsche, first published in 1886. It takes up and expands on the ideas of his previous work, Thus Spoke Zarathustra, but approached from a more critical, polemical direction. In Beyond Good and Evil, Nietzsche attacks past philosophers for their alleged lack of critical sense and their blind acceptance of Christian premises in their consideration of morality. The work moves into the realm "beyond good and evil" in the sense of leaving behind the traditional morality which Nietzsche subjects to a destructive critique in favour of what he regards as an affirmative approach that fearlessly confronts the perspectival nature of knowledge and the perilous condition of the modern individual. Friedrich Wilhelm Nietzsche (October 15, 1844 - August 25, 1900) was a German philosopher. His writing included critiques of religion, morality, contemporary culture, philosophy, and science, using a distinctive style and displaying a fondness for aphorism. Nietzsche's influence remains substantial within and beyond philosophy, notably in existentialism and postmodernism. Nietzsche began his career as a philologist before turning to philosophy. At the age of 24 he became Professor of Classical Philology at the University of Basel, but resigned in 1879 due to health problems, which would plague him for most of his life. In 1889 he exhibited symptoms of a serious mental illness, living out his remaining years in the care of his mother and sister until his death in 1900.