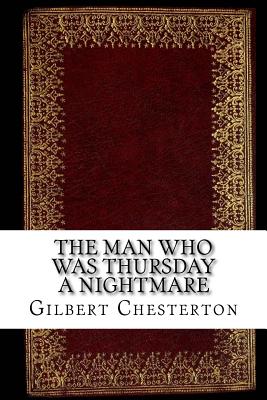 The Man Who Was Thursday a Nightmare (Paperback)
Createspace Independent Publishing Platform, 9781539425861, 164pp.
Publication Date: October 10, 2016
Other Editions of This Title:
Paperback (4/12/2013)
Paperback (4/24/2014)
Paperback (7/28/2018)
Paperback (7/17/2019)
Paperback (11/28/2017)
Paperback (1/13/2017)
Paperback (12/10/2012)
Paperback (7/25/2009)
Paperback (12/20/2013)
Paperback (3/18/2017)
Paperback (9/19/2016)
Paperback (9/24/2015)
Paperback (4/12/2015)
Paperback (10/17/2017)
Paperback (10/28/2017)
Paperback (10/19/2013)
Paperback (9/20/2018)
Paperback (1/29/2007)
Paperback (12/29/2017)
* Individual store prices may vary.
Description
The Man Who Was Thursday: A Nightmare is a novel by G. K. Chesterton, first published in 1908. The book has been referred to as a metaphysical thriller. Although it deals with anarchists, the novel is not an exploration or rebuttal of anarchist thought; Chesterton's ad hoc construction of "Philosophical Anarchism" is distinguished from ordinary anarchism and is referred to several times not so much as a rebellion against government but as a rebellion against God. The novel has been described as "one of the hidden hinges of twentieth-century writing, the place where, before our eyes, the nonsense-fantastical tradition of Lewis Carroll and Edward Lear pivots and becomes the nightmare-fantastical tradition of Kafka and Borges." Gilbert Keith Chesterton (29 May 1874 - 14 June 1936) was one of the most influential English writers of the 20th century. His prolific and diverse output included journalism, philosophy, poetry, biography, Christian apologetics, fantasy and detective fiction. Chesterton has been called the "prince of paradox." Time magazine, in a review of a biography of Chesterton, observed of his writing style: "Whenever possible Chesterton made his points with popular sayings, proverbs, allegories-first carefully turning them inside out." For example, Chesterton wrote the following: Thieves respect property. They merely wish the property to become their property that they may more perfectly respect it. Chesterton is well known for his reasoned apologetics and even those who disagree with him have recognized the universal appeal of such works as Orthodoxy and The Everlasting Man.