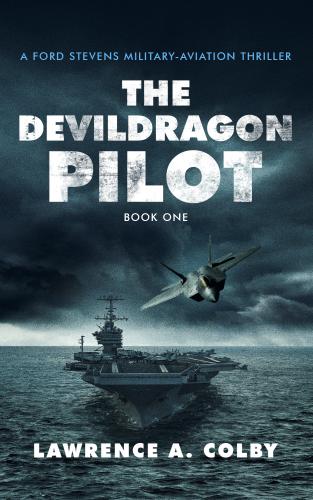 The Devil Dragon Pilot (Paperback)
A Ford Stevens Military-Aviation Thriller
Createspace Independent Publishing Platform, 9781539427643, 590pp.
Publication Date: November 6, 2016
* Individual store prices may vary.
Description
..".impressive command of subject, Colby keeps the reader turning pages...old-fashioned cliffhanging drama." -Reserve Officers Association From #1 Amazon Bestselling Author Lawrence A. Colby. How do you capture the fastest airplane in the world without anyone finding out? Concealed deep within China's inland borders is one of the most classified airplanes ever flown, known as Devil Dragon. She's sleek, unbelievably fast, and mysterious-her test pilots have one mission in mind: make her test flights successful for operational use as soon as possible. When strange transmissions of pilots are recorded without an aircraft appearing on radar, and bizarre cell phone signals are detected at towers hundreds of miles apart, the intelligence community team is set in motion. Soon, U.S. Air Force Reserve pilot Ford Stevens is asked to take on the most dangerous assignment of his life. Against an atmosphere of Washington, DC government red tape, an intimidating Chinese General, DIA leadership, and carrier aviation, all airways lead to a stunning international plot. Crammed with deceitful government employees, smoke and mirrors tradecraft, and the blackest, most secretive aviation flight ever undertaken, you will be unable to put it down. Visit ColbyAviationThrillers.com and on Facebook @ColbyAviationThrillers.
About the Author
#1 Amazon Bestselling Author Lawrence A. Colby has been flying since he was a teenager, first starting out by sitting silently in the rear seat of a Cessna 172 for weight and balance purposes. Later, he was promoted from being dead weight to washing airplanes by hand. Bitten by the aviation bug, he went on as a military pilot and flew for both the U.S. Marine Corps and U.S. Air Force, becoming qualified in jets, props, and helicopters. His first book, THE DEVIL DRAGON PILOT, skyrocketed to becoming an Amazon Bestseller and has been published in more than 12 countries, from India and Japan to the British Commonwealth and beyond. He continues to donate a portion of his sales to supporting brother and sister veterans at Team Rubicon and The Headstrong Project. His brand new thriller, THE BLACK SCORPION PILOT, will be available in summer 2018. Known as "Cheese" in the squadrons, his number of take-offs match his number of landings. Visit ColbyAviationThrillers.com.