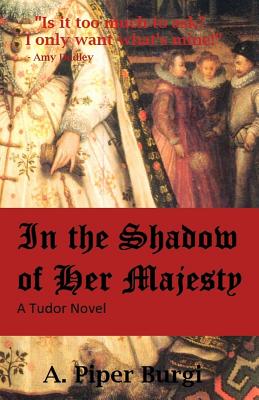 In the Shadow of Her Majesty
Paperback

* Individual store prices may vary.
Description
What are you prepared to sacrifice for the great love of your life and which price is too high to pay? When a young woman lay dead at the bottom of a set of stairs on 8 September 1560, all of Europe is convinced they know the murderer...her husband, Lord Robert Dudley. A favourite of Queen Elizabeth I, he still lives in hopes of winning her hand in marriage. Is this the reason his wife had to die? This suspicion also endangers the Queen, since her claim to the throne has not yet been substantiated. Robert Dudley comes from a family that was infamous for its ambition, but did he have his wife Amy killed in order to ascend to the throne as the Queen's husband? His best friend and steward, Thomas Blount, must ask himself this question. He goes to Berkshire to ascertain the truth about Amy's death. Thomas finds himself in a more than unfortunate situation. If he should indeed find signs that Amy has fallen victim to a crime, then Robert will never be able to clear his name of suspicion. Worse yet: The consequences could not only destroy him but could also cost Thomas Blount his life. Even Katharine Ashley, the Queen's Governess and perhaps the only person in the world Elizabeth I trusts and loves unconditionally, is also in search of the truth. Many years ago Kat Ashley took the blame and thereby endangered not only herself but her charge as well. Kat will not let that happen again, no matter the cost to include Robert Dudley's life. But what actually happened in said house in Berkshire, and which secrets did Amy Dudley take to the grave? After all, she stood in Her Majesty's shadow unlike any other woman in the Kingdom. It was a time during which the British Empire was born. A world filled with hunger for power and knowledge and two women who fight for their happiness.
Createspace Independent Publishing Platform, 9781539532637, 408pp.
Publication Date: November 15, 2016
About the Author
A. Piper Burgi is the author of several non-fiction books, and recently added her debut historical fiction novel "In the Shadow of Her Majesty" to her ever-expanding collection of published writings. She is also a history lover, an Air Force Veteran, and a military spouse; plus a busy doggie mommy, a cook, an event coordinator, a chauffeur...you get the picture. When she is not busy chasing after her three "furry children", or holding on tightly to a good cup of coffee, she can be found typing away on her computer. For more information feel free to visit her author's website at www.authorapiperburgi.com.