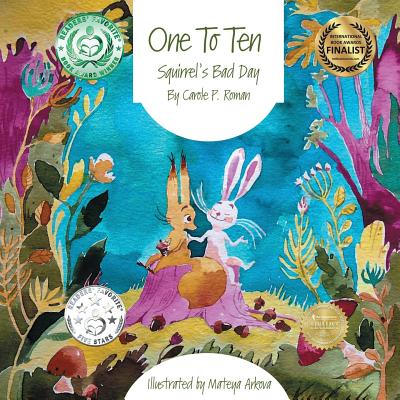 One to Ten (Paperback)
Squirrel's Bad Day
Createspace Independent Publishing Platform, 9781539590668, 40pp.
Publication Date: October 30, 2016
Other Editions of This Title:
Paperback (4/18/2017)
Hardcover (4/28/2017)
Hardcover (2/26/2017)
* Individual store prices may vary.
Description
Squirrel is rushing along a tree limb when she trips, losing all her acorns into the rushing water of the river below. Angry and frustrated, she doesn't know what to do. Her good friend, Rabbit, lends both a sympathetic ear as well as a solution.Rather than get angry, Rabbit tells her, rate the problem on a scale of one-to-ten. By identifying and realizing the true importance of the issue, the issue may not seem so overwhelming.Adorable forest creatures help the sad squirrel put everything into perspective so he does not to get stuck in a rut over something that may not be a big deal after all.
About the Author
Carole P. Roman is the award-winning author of the Captain No Beard series. Both Captain No Beard-An Imaginary Tale of a Pirate's Life and Captain No Beard and the Aurora Borealis have received the Kirkus Star of Exceptional Merit. The first book in the series was named to Kirkus Reviews Best 2012. Captain No Beard and the Aurora Borealis has been named to Kirkus Reviews Best of 2015. Each book in the series has won numerous awards including the NABE Pinnacle Award, ERIK Award for 2013, ForeWord Review Five Star and Finalist in the Book of the Year, and Reader's Views Children's Book of the Year 2013. Roman is also the author of the award-winning non-fiction culture series, If You Were Me and Lived in... that explores customs and cultures around the world. She lives on Long Island with her husband and near her children and grandchildren.