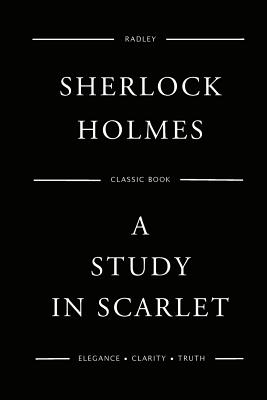 A Study in Scarlet
Paperback

* Individual store prices may vary.
Other Editions of This Title:
Paperback (5/14/2012)
Paperback (9/1/2004)
Paperback (4/28/2015)
Paperback (12/10/2015)
Paperback (6/7/2018)
Paperback (5/10/2015)
Paperback (12/23/2011)
Paperback (8/10/2015)
Paperback (1/9/2020)
Paperback (1/4/2016)
Paperback (6/9/2009)
Paperback (2/23/2020)
Paperback (4/14/2018)
Paperback (3/9/2020)
Paperback (6/7/2018)
Paperback (3/9/2020)
Paperback (4/20/2015)
Paperback (1/22/2013)
Paperback (8/7/2013)
Description
A Study in Scarlet is an 1887 detective novel by British author Sir Arthur Conan Doyle. Written in 1886, the story marks the first appearance of Sherlock Holmes and Dr Watson, who would become two of the most famous characters in popular fiction. The book's title derives from a speech given by Holmes, an amateur detective, to his friend and chronicler Watson on the nature of his work, in which he describes the story's murder investigation as his "study in scarlet": "There's the scarlet thread of murder running through the colourless skein of life, and our duty is to unravel it, and isolate it, and expose every inch of it." A Study in Scarlet was the first work of detective fiction to incorporate the magnifying glass as an investigative tool.Each RADLEY CLASSIC is a meticulously restored, luxurious and faithful reproduction of a classic book; produced with elegant text layout, clarity of presentation, and stylistic features that make reading a true pleasure. Special attention is given to legible fonts and adequate letter sizing, correct line length for readability, generous margins and triple lead (lavish line separation); plus we do not allow any mistakes/changes to creep into the original author.
Createspace Independent Publishing Platform, 9781539687047, 166pp.
Publication Date: October 23, 2016