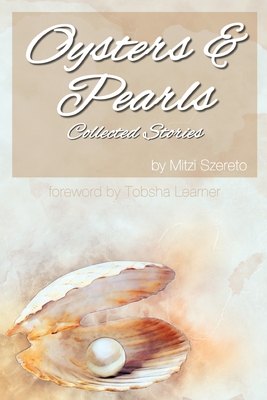 Oysters and Pearls (Paperback)
Collected Stories
Createspace Independent Publishing Platform, 9781539825395, 214pp.
Publication Date: November 2, 2016
* Individual store prices may vary.
Description
Acclaimed author Mitzi Szereto explores the many complexities of desire, love and lust in this rich and varied "best of" collection of erotically charged short stories.In these 17 provocative and often witty offerings, Mitzi Szereto travels expertly between genres with tales that explore both the light and the dark sides of sexuality. Oysters and Pearls gives the reader a glimpse into worlds that are as ordinary as they are fantastical and mysterious. Like a skilled lover, this sensuous and imaginative compilation will leave you wanting more."Whether it's gothic, paranormal, fantasy, sci-fi, romance or flat-out comedy, Mitzi Szereto does it with panache. Stories that titillate and entertain, provoke wild thoughts or sensual dreams, they're all here in Oysters and Pearls. Enjoy "-Kate Douglas, bestselling author of Spirit Wild and Intimate Relations"Mitzi Szereto has a quirky and intriguing hold on suburbia, desperation, the loneliness of the human heart and the essential sadness of its yearning, as we seek to express it through sexual contact. It's a dark and poignant place, of course, but laughter is never entirely absent. Which is just as it should be."-Niall Griffiths, author of Wreckage and Sheepshagger"The strength of this collection lies in its imaginative grasp of the wide variety of cultures, landscapes and emotional engagement of the reader as well the sexual."-Tobsha Learner, bestselling author of Picture This.
About the Author
Mitzi Szereto (mitziszereto.com) is an author and anthology editor of multi-genre fiction and non-fiction. She has her own blog of humorous essays at Errant Ramblings: Mitzi Szereto's Weblog (mitziszereto.com/blog), and a web TV channel Mitzi TV (mitziszereto.com/tv), which covers the "quirky" side of London, England. Her books include Phantom: The Immortal (co-authored with Ashley Lister); Rotten Peaches (The Thelonious T. Bear Chronicles) and Normal for Norfolk (The Thelonious T. Bear Chronicles)-the cozy mystery/satire series co-authored with celebrity author bear Teddy Tedaloo; The Wilde Passions of Dorian Gray; Pride and Prejudice: Hidden Lusts; Love, Lust and Zombies; Thrones of Desire: Erotic Tales of Swords, Mist and Fire and Getting Even: Revenge Stories. Her anthology Erotic Travel Tales 2 is the first anthology of erotica to feature a Fellow of the Royal Society of Literature.