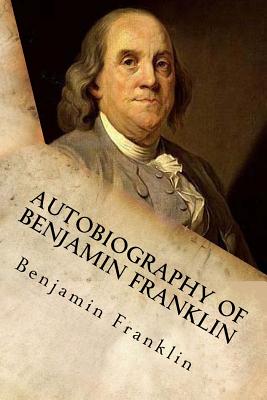 Autobiography of Benjamin Franklin
Paperback

* Individual store prices may vary.
Other Editions of This Title:
Paperback (4/30/2014)
Paperback (7/6/2018)
Paperback (9/8/2010)
Paperback (5/17/2017)
Paperback (5/11/2012)
Paperback (2/8/2015)
Paperback (4/25/2016)
Paperback (9/1/2014)
Paperback (1/26/2018)
Paperback (7/3/2011)
Paperback (10/13/2018)
Paperback (1/23/2015)
Paperback (2/1/2012)
Paperback (11/6/2011)
Paperback (2/1/2013)
Paperback (12/13/2013)
Paperback (5/4/2015)
Paperback (6/23/2014)
Paperback (3/30/2014)
Description
Benjamin Franklin, born January 17, 1706 in Boston and died April 17, 1790 in Philadelphia, is a printer, publisher, writer, naturalist, inventor and American politician. He participated in the drafting of the Declaration of Independence of the United States, which it is a signatory, which makes him one of the Founding Fathers of the United States. During the American Revolution, it trades in France as a diplomat not only the alliance with the French, but also the Treaty of Paris. Representative of the Philadelphia Convention, he participated in the development of the United States Constitution. The life of Benjamin Franklin is largely characterized by the desire to help the community. The foundation of the first volunteer firemen in Philadelphia, the first US lending library and the invention of controlled combustion wood stove illustrate its ambition to improve the quality of life and access to education his fellow citizens. With the invention of the lightning rod, he cleared away the danger of so far this natural phenomenon. The son of a merchant and tallow candles, Benjamin Franklin leads a printing career, before retiring from business at the age of 42 to enter politics. His social ascent - reported through the many editions of his autobiography - will long remain an example of success through work and discipline. Origin and activities This modest tallow merchant's son and candles were sometimes simultaneously or successively, printer, journalist, essayist, publisher of books, newspapers and popular almanacs, man of letters, bibliophile, founder of associations including vocations philanthropic or assistance as La Junta, librarian inventor of the first subscription libraries in 1731, and the first mobile libraries, founder of various learned societies whose activity is the cause of the University of Pennsylvania, creator firefighter Philadelphia first registered company and physicist and inventor of the lightning rod, philosopher and moralist, politician and diplomat acknowledged. He was appointed postmaster of the Pennsylvania colony, then all the Thirteen Colonies by her gracious Majesty. outstanding reformer of this royal service, efficient distribution, it may impose on the political level. Member and honorary president of the Assembly of Pennsylvania, the US representative, first postmaster, is also among the earliest artillery officers (creator of a Pennsylvanian military company), ambassadors, writers, philosophers (precursor utilitarianism) and American scientists.
Createspace Independent Publishing Platform, 9781539899457, 286pp.
Publication Date: November 2, 2016