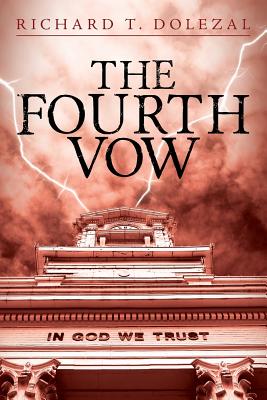 The Fourth Vow (Paperback)
Createspace Independent Publishing Platform, 9781540337122, 424pp.
Publication Date: January 31, 2017
* Individual store prices may vary.
Description
It was a chance discovery, but now the Catholic Church has irrefutable proof that the American Civil Liberties Union (ACLU) is executing a decades-long strategy to destroy Christianity in America. Pope John Paul II retains famed trial lawyer Carson Elliott to confront the ACLU.
The ACLU responds by having Elliott killed. And so it begins.
Three years later, a tactical nuclear explosion vaporizes four hundred people at a holiday ACLU fundraiser in San Francisco. The private war escalates between those who want to keep America a Christian nation and those who do not. Hanging in the balance is the future of America.
When the president orders his attorney general, Tom Owens, to spearhead the investigation of the explosion, Tom asks his good friend Blake Elliott to assist him. As soon as Blake is involved, dead bodies pile up and casualties mount as the investigation takes bizarre and dangerous twists and turns, reaching all the way to the Supreme Court.
The Fourth Vow inventively imagines a world where people of faith and conviction strive to take back their country from a wicked infection of incremental evil. Written with precision and passion, this book will hold up a mirror to current events, stir the emotions, and excite readers all the way to its riveting conclusion.
About the Author
Richard T. Dolezal grew up in St. Paul, Minnesota, where he attended grade school, high school and college at the University of St. Thomas, graduating with a degree in English literature. After college he was commissioned an officer in the United States Marine Corps. He had a Top Secret Clearance for his duty service in Vietnam, Okinawa and Korea. His last assignment was Reserve Training Officer at Marine Corps Recruit Depot, San Diego, California. He left the Marine Corps with the rank of Captain. He raised a family and had a day job while attending night law school at William Mitchell College of Law in St. Paul. After law school, he joined a litigation law firm. He tried cases in state and federal court, as well as doing appellate work in state and federal courts. During his legal career, he worked for the Department of Justice as an Assistant United States Attorney for the District of Minnesota, and he served as General Counsel at two corporations headquartered in Minnesota. He then changed course and worked as a consultant in mergers and acquisitions, merger integration, process improvement and litigation support. Dolezal and The Fourth Vow have been featured in and on multiple media outlets including The Josh Tolley Show; Newstalk 770 with Danielle Smith; The Voice of Reason with Andy Hooser, KQAM; The Bob Dutko Show; Politics on the Edge with Melody Himel Clarke, WESR - FM and The Midwest Book Review. He has three adult children and seven (and counting) grandchildren. He and his wife, Mary, live in the Phoenix, Arizona area after leaving Southern California. They rescued a mastiff-bloodhound mix, named him Buddy, did some training, and their lives have been better ever since.
or
Not Currently Available for Direct Purchase