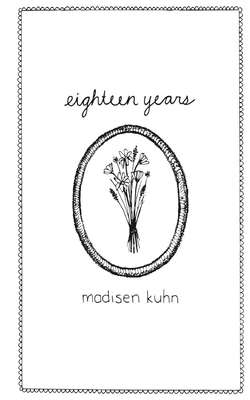 Eighteen Years (Paperback)
Createspace Independent Publishing Platform, 9781540491596, 266pp.
Publication Date: November 17, 2016
Other Editions of This Title:
Paperback (11/17/2015)
* Individual store prices may vary.
Description
Authored by Madisen Kuhn // Illustrated by Laura Supnik Eighteen Years is a collection of 220+ poems. Madisen Kuhn, popularly known as m.k., writes honestly and personally about the thoughts and feelings that come with finding your way. Eighteen Years is here to tell you that you are not alone. It is meant to be curled up with at night, accompanied by a cup of tea. It's a hug in book-form. It is there to comfort you when fuzzy socks and ice cream just aren't enough. It will inspire you to pick up a pen and write down thoughts of your own. It will help you to say the words that feel stuck in your chest. Take it on the train. Take it to the beach. Keep it on your nightstand. Keep it in your backpack. Read it at the park on benches beneath hundred-year-old trees. Read it while it's raining. Read it when you're happy. Read it when your heart aches. Eighteen Years is meant to be bent and worn, written in, tear-stained, and loved. This book is for you.
About the Author
madisen kuhn, popularly known as m.k. by those who enjoy her writing, was born on the last day of winter in 1996. she has been posting her thoughts and feelings online since 2012, originally on tumblr, and has since branched out to other platforms, such as instagram and youtube. she self-published her first book, eighteen years, at 19 and has sold over 5,000 copies. as a graphic design student, she aspires to pair her love of writing with the visual arts. madisen draws inspiration from the little things, ambiguity, what love feels like, her favorite artists, the monsters that are depression and anxiety, becoming, & the thirst to always be growing and changing. when she isn't writing, she loves blogging, taking photos, eating brie sandwiches with her boyfriend christopher, traveling via train, wandering around museums, having late night dance parties in her room, cuddling with her yorkshire terrier named angel, and watching movies with her siblings, natalie and jake. life is a continuous sequence of learning and renewal. madisen is eager to share her on-going epiphanies about existing as she uncovers these new truths herself. while she enjoys the art of writing, she especially enjoys the deep bond that is formed when readers resonate with her words. it is too easy to find yourself feeling alone in this world. it is a gift to be able to connect with others through art. she encourages you to find light and inspiration with her in every moment. stay connected with madisen for daily updates by following her on twitter: @madisenkuhn, instagram: @madisenkuhn, and tumblr: madisenkuhn.info.
or
Not Currently Available for Direct Purchase