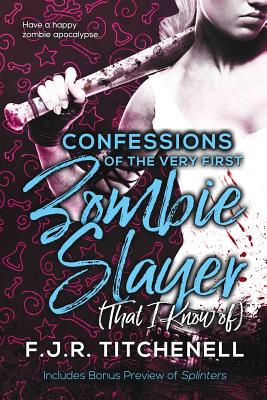 Confessions of the Very First Zombie Slayer (That I Know of)
Paperback

* Individual store prices may vary.
Description
The world is Cassie Fremont's playground. Her face is on the cover of every newspaper. She has no homework, no curfew, and no credit limit, and she spends her days traveling the country with her friends, including a boy who would do the chicken dance with death to make her smile. Life is just about perfect-except that those newspaper headlines are about her bludgeoning her crush to death with a paintball gun, she has to fight ravenous walking corpses every time she steps outside, and one of her friends is still missing, trapped somewhere in the distant, practically impassable wreckage of Manhattan. Still, Cassie's an optimist, more prone to hysterical laughter than hysterical tears, and she'd rather fight a corpse than be one. She'll never leave a friend stranded when she can simply take her road trip to impossible new places, even if getting there means admitting to that boy that she might love him as more than her personal jester. Skillfully blending effective horror with unexpected humor, this diary-style novel is a fast-paced and heartwarming read.
Createspace Independent Publishing Platform, 9781540589194, 310pp.
Publication Date: February 2, 2017
About the Author
F.J.R. Titchenell is an author of young adult, sci-fi, and horror fiction, including The Prospero Chronicles series. She graduated with a B.A. in English from Cal State University Los Angeles in 2009 at the age of twenty. She currently lives in San Gabriel, California, with her husband and fellow author, Matt Carter, and their pet king snake, Mica. Find out more at http: //www.fjrtitchenell.weebly.com