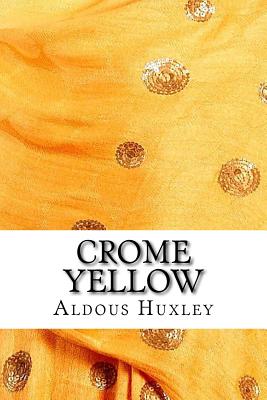 Crome Yellow (Paperback)
Createspace Independent Publishing Platform, 9781540834027, 176pp.
Publication Date: December 7, 2016
Other Editions of This Title:
Paperback (9/2/2017)
Paperback (7/11/2016)
Paperback (3/8/2018)
Paperback (7/4/2018)
Paperback (6/19/2018)
Paperback (8/2/2016)
Paperback (3/25/2017)
Paperback (9/13/2017)
Paperback (8/8/2017)
Paperback (8/21/2017)
Paperback (3/28/2017)
Paperback (6/16/2018)
Paperback (2/6/2017)
Paperback (3/14/2017)
Paperback (7/7/2018)
Paperback (6/29/2017)
Paperback (6/30/2017)
Paperback (2/21/2017)
Hardcover (5/24/2017)
* Individual store prices may vary.
Description
Crome Yellow is the first novel by British author Aldous Huxley. It was published in 1921. In the book, Huxley satirises the fads and fashions of the time. It is the witty story of a house party at "Crome" (a lightly veiled reference to Garsington Manor, a house where authors such as Huxley and T. S. Eliot used to gather and write). We hear the history of the house from Henry Wimbush, its owner and self-appointed historian; apocalypse is prophesied, virginity is lost, and inspirational aphorisms are gained in a trance. Our hero, Denis Stone, tries to capture it all in poetry and is disappointed in love. Aldous Leonard Huxley (26 July 1894 - 22 November 1963) was an English writer and one of the most prominent members of the famous Huxley family. He spent the later part of his life in the United States, living in Los Angeles from 1937 until his death in 1963. Best known for his novels including Brave New World and wide-ranging output of essays, he also published short stories, poetry, travel writing, and film stories and scripts. Aldous Huxley was a humanist and pacifist, and he was latterly interested in spiritual subjects such as parapsychology and philosophical mysticism. He is also well known for advocating and taking psychedelics. By the end of his life Huxley was considered, in some academic circles, a leader of modern thought and an intellectual of the highest rank.