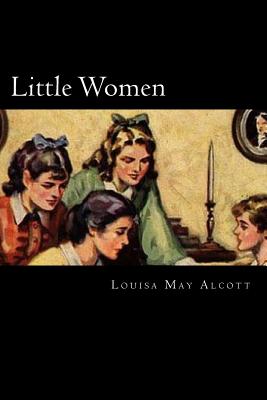 Little Women
Paperback

* Individual store prices may vary.
Other Editions of This Title:
Paperback (10/13/2016)
Paperback (5/16/2015)
Paperback (9/18/2018)
Paperback (11/3/2016)
Paperback (10/14/2020)
Paperback (7/29/2017)
Paperback (2/17/2017)
Paperback (12/9/2014)
Paperback (12/10/2013)
Paperback (6/12/2018)
Paperback (1/16/2018)
Paperback (8/6/2017)
Paperback (4/23/2020)
Paperback (1/25/2021)
Paperback (2/14/2017)
Paperback (5/3/2020)
Paperback (10/21/2020)
Paperback (5/8/2015)
Description
Four sisters live with their mother, facing Christmas without their father as the American Civil War is underway. The family is settled in a new neighborhood, living in genteel poverty after the father lost their money. Meg and Jo March, the elder sisters, both work outside the home for money to support the family. Meg teaches four children in a nearby family, while Jo aids her grand-aunt March, a wealthy widow whose strength is failing. Beth helps with housework, and Amy attends school. Their nearest neighbor is a wealthy man whose orphaned grandson lives with him. The sisters introduce themselves to the handsome shy boy, Laurie, who is the age of Jo. Meg is the beautiful sister; Jo is the tomboy; Beth is the musician; and Amy is the charming artist with blond curls. Jo is impulsive and quick to anger. One of her challenges in growing up is to control acting out of anger, a challenge that also faced her mother, Marmee. Marmee advises Jo on speaking with forethought. The boy Laurie enjoys his neighbors, joining the family often in play and home theatrics written by Jo. His grandfather, Mr. Laurence, is charmed by Beth, and gives her the piano used by Laurie's dead sister.
Createspace Independent Publishing Platform, 9781541096097, 508pp.
Publication Date: December 16, 2016