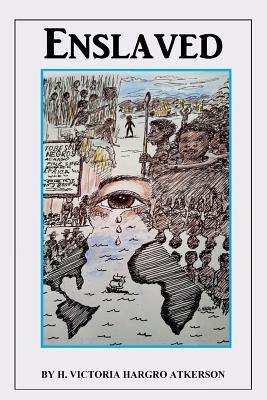 Enslaved
Paperback

* Individual store prices may vary.
Description
Enslaved Summary The joys and sorrows, inflicted on an African princess and a member of her royal guard, which unfolds in this literary pictorial that immerses the reader in the horrors of the Atlantic slave trade. Captured by slavers, who refused to acknowledge her humanity, these two tribal leader face the shock of enslavement and the loss of their personal freedom in a strange world where the color of their skin dictates their existence and their destinies. Devastated by the loss of her husband, her tribe, and her homeland, Princess Gemma with Sekazi, a strong invincible warrior, joins hundreds of victims who are in chains and thrown into the bowels of their worst nightmare that continues to degrade their existence in the slave alcoves on the west coast of Africa. Herded on board a waiting slave ship, new horrors are reveal as the foul and filthy slave quarters become the new reality for Africans stowed at the bottom of the ship with increased cruelty and dehumanization. In an atmosphere of hatred, the story reveals the realities of the Middle Passage in vividly realistic images. In the backdrop of the horrific slave trade, the ship's captain falls madly in love with the African princess and elicits her affection despite her desire gain her freedom and the freedom of the only person left in her life from her past, Sekazi... The warrior who sacrifices his freedom in an attempt to save her from the clutches of enslavement. While in the arms of her unwanted lover, the handsome ship's captain, Princess Gemma discovers that she again loses the one person who links her with the wonderful life she longs for in Africa. The two tribal members end up in two different location and thousands of miles apart, on different plantations, as they face new challenges. The lifestyle, traditions, and culture of plantation owners explodes along with the severe treatment and abuse of enslaved Africans trapped in the clinches of forced labor, violence, and politically approved disenfranchisement. Clinging to her teachings as a child, Princess Gemma refuses to accept the life forced on her as she steadfastly seeks the justice and freedom that she knows she is entitled to no matter where she lives. This adventurous story faces the horrors of human slave trafficking, the deepest cravings of passion, and the unyielding instinct to be free. This saga ends, demonstrating self-pride and determination despite unrelenting human suffering, paying homage to the human spirit.
Createspace Independent Publishing Platform, 9781541159679, 444pp.
Publication Date: February 11, 2017
About the Author
H. Victoria Hargro Atkerson is an imaginative storyteller who enjoys the creative process so much that she spends eight to ten hours a day perfecting her skills. She lives between the words, sentences, paragraphs, and pages of her many stories. Born in Atlanta, Georgia in a large close-knit family, she listened to her elders weave words into colorful, imaginative stories. It is a tradition that continues today as she sits around the family table telling and listening to stories of her recent and past family histories. Her latest novel, BUTTERMILK BOTTOM, incorporates a series of family stories, neighborhood folklore, and plain old gossip... All elements of a great story. As a child, going to elementary school in Atlanta's 4th Ward, Victoria passed the notorious neighborhood of "Buttermilk Bottom" going to and from CW Hill Elementary School with her friends and siblings. Many of her schoolmates lived there. The notorious reputation of Buttermilk Bottom prompted her parents to restrict her siblings and her from entering the crime-ridden community, a reputation that unveiled every weekend in shooting and stabbing incidents. On occasions, gunshots could be heard from Friday afternoons to late on Sundays. Before becoming a writer, Victoria attended school in Atlanta, Ga, attending David T. Howard High School and Morris Brown College. While studying at Morris Brown, she joined the peace movement and the struggle for civil rights, marching with Martin L. King Jr. and hundreds of students from Atlanta University down Hunter Street where she happily caught glimpses of her siblings in the crowd of determined, singing marchers. Enthusiastic about the fight for equality and justice, she marched, participated in sit-ins, worked on voter registration drives, a mission that young people of the era took seriously with a strong sense of commitment and devotion. She left school during her junior year to join the Peace Corps in Brazil, where she worked in the Community Development Program, The School to School Program, Family Planning, and recreational programs in Espirito Santo and in Rio de Janeiro. In Brazil, she her of her culture grew and flourished. Her favorite city is Salvador du Bahia, where she discovered the rich history of Africans who were enslaved and forced to work for the wealth and well being of whites. In Bahia's colorful, historically drenched landscape, she became fascinated with the history of her people and their struggle for freedom and equality.