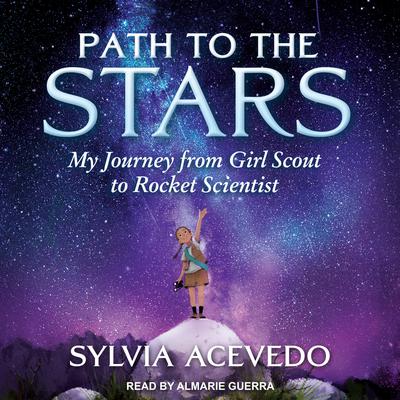 Path to the Stars (Digital Audiobook)
My Journey from Girl Scout to Rocket Scientist
Publication Date: May 27, 2019
Other Editions of This Title:
Paperback (3/31/2020)
Hardcover (9/4/2018)
Description
The inspiring memoir for young listeners about a Latina rocket scientist whose early life was transformed by joining the Girl Scouts and who currently serves as CEO of the Girl Scouts of the U.S.A.



A meningitis outbreak in their underprivileged neighborhood left Sylvia Acevedo's family forever altered. As she struggled in the aftermath of loss, young Sylvia's life transformed when she joined the Brownies. The Girl Scouts taught her how to take control of her world and nourished her love of numbers and science.



With new confidence, Sylvia navigated shifting cultural expectations at school and at home, forging her own trail to become one of the first Latinx to graduate with a master's degree in engineering from Stanford University and going on to become a rocket scientist at NASA's Jet Propulsion Laboratory.

About the Author
Almarie Guerra is a bilingual actor based in Los Angeles. She was born in Puerto Rico and was raised in the U.S. from the age of eight. She grew up on amazing Latin American literature and developed a love for the spoken word through nightly storytelling rituals with her family. Now, she gets to share her passion with listeners from all over the world by narrating audiobooks as well as working in theater, commercials, TV, and film. Her favorite narration opportunities, however, occur at bedtime each night, when she reads stories to her two girls.