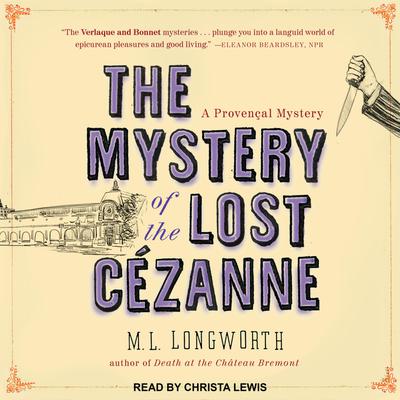 The Mystery of the Lost Cezanne (Verlaque and Bonnet Provençal Mystery) (Digital Audiobook)
Publication Date: November 26, 2018
Other Editions of This Title:
Paperback (9/15/2015)
Description
A friend in his cigar club asks Antoine Verlaque to visit René Rouquet, a retired postal worker who has found a rolled-up canvas in his apartment. As the apartment once belonged to Paul Cézanne, Rouquet is convinced he's discovered a treasure. But when Antoine arrives at the apartment, he finds René dead, the canvas missing, and a mysterious art history professor standing over the body.



When the painting is finally recovered, the mystery only deepens. The brushwork and color all point to Cézanne. But who is the smiling woman in the painting? She is definitely not the dour Madame Cézanne. Who killed René? Who stole the painting? And what will they do to get it back?



Like Donna Leon and Andrea Camilleri, M. L. Longworth's enchanting mysteries blend clever whodunits with gustatory delights and the timeless romance of Provence. The Mystery of the Lost Cézanne adds a new twist by immersing Antoine and Marine in a clever double narrative that costars Provence's greatest artist.
About the Author
The narrator of over 100 audiobooks, Christa Lewis has been nominated for an Audie Award and was a 2018 Listener's Choice finalist. She has been featured in AudioFile magazine and earned multiple Earphones Awards for recordings that have become Audible bestsellers in YA and literary fiction. Christa is a classically trained actress and graduate of Boston University's actor training program. She got her start as the voice of international television station DW-TV, and has been a regular on hundreds of cartoons, museum guides, documentaries, and commercials. Christa is bilingual-she speaks accent-free German fluently and can offer a variety of accents and dialects. An experienced teacher and director, Christa teaches commercial voice-over and audiobook narration.