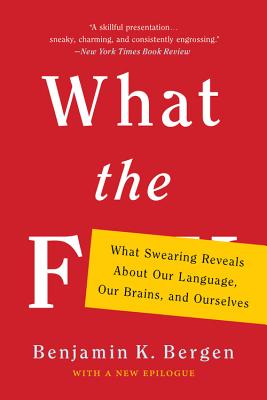 What the F
What Swearing Reveals About Our Language, Our Brains, and Ourselves
Paperback

* Individual store prices may vary.
Other Editions of This Title:
Digital Audiobook (9/30/2016)
MP3 CD (10/1/2016)
Compact Disc (10/1/2016)
Description
It may be starred, beeped, and censored -- yet profanity is so appealing that we can't stop using it. In the funniest, clearest study to date, Benjamin Bergen explains why, and what that tells us about our language and brains.

Nearly everyone swears-whether it's over a few too many drinks, in reaction to a stubbed toe, or in flagrante delicto. And yet, we sit idly by as words are banned from television and censored in books. We insist that people excise profanity from their vocabularies and we punish children for yelling the very same dirty words that we'll mutter in relief seconds after they fall asleep. Swearing, it seems, is an intimate part of us that we have decided to selectively deny.

That's a damn shame. Swearing is useful. It can be funny, cathartic, or emotionally arousing. As linguist and cognitive scientist Benjamin K. Bergen shows us, it also opens a new window onto how our brains process language and why languages vary around the world and over time.

In this groundbreaking yet ebullient romp through the linguistic muck, Bergen answers intriguing questions: How can patients left otherwise speechless after a stroke still shout Goddamn! when they get upset? When did a cock grow to be more than merely a rooster? Why is crap vulgar when poo is just childish? Do slurs make you treat people differently? Why is the first word that Samoan children say not mommy but eat shit? And why do we extend a middle finger to flip someone the bird?

Smart as hell and funny as fuck, What the F is mandatory reading for anyone who wants to know how and why we swear.
Praise For What the F: What Swearing Reveals About Our Language, Our Brains, and Ourselves…
"A delightful investigation of profanity."—New York Times Book Review

"A sweeping book, exploring not just the history of English profanity in words and in gestures, but also the impact that swears and other taboo words can have on the human brain...a valuable addition to the literature about profanity."—Atlantic.com

"In What the F, a self-proclaimed 'book-length love letter to profanity,' cognitive scientist Benjamin K. Bergen succeeds in bringing me around to appreciate the broader context, as well as the finer points, of the role 'bad' words play in human society."—Science

"Offers useful information."—New York Review of Books

"Some prospective readers may avoid this book because of its subject matter. That would be a gosh-darned shame."—Science News

"Interesting and insightful"—National Review

"A fascinating journey to the crossroads of etymology, neuroscience and culture."—Discover

"Full of cute tidbits you can drop at cocktail parties.... It's a quick read, not a detailed, academic dissection. But don't mistake breeziness for triviality: cursing plays a central role in our lives."—Ars Technica

"An illuminating read, and makes the case for swears as a salutary aspect of our lexicon."—A.V. Club

"Oh, it's a lot of fun, and scientifically sound too!"—Language Hat

"What the F is rigorous enough to guide future scientific inquiry, and casual enough to be read by any ordinary bastard with a passing interest. At the very least, this book reassured me of the profundity of my own human capacity for expression when I rolled out of bed last month to find out who got elected President of the United States and could only utter that one favorite curse word."—PopMatters

"This book is a surprisingly engaging introduction to a topic rarely discussed or examined...Highly recommended."—Choice

"A lively study with the potential to offend just about anyone.... From a linguistic and sociological viewpoint, the book is illuminating, even playful...an entertaining...look at an essential component of language and society."—Publishers Weekly

"A winner for the psycholinguistics nerd in the house."—Kirkus Reviews

"There's something here guaranteed to offend everyone (the book wouldn't be doing its job otherwise), but...lovers of language will savor every word."—Booklist

"What the F is accessible and engaging, and so brimming with insights that, even as a linguist, I found myself stopping every couple of pages to say to myself, 'Huh-I never thought of that.' You'll find yourself saying the same thing-and you'll never hear profanity the same way again."—Geoff Nunberg, author of Ascent of the A-Word, language commentator on NPR's Fresh Air

"What the F teaches us that profanity is not just pungent, but as INTERESTING as other aspects of the miracle we call language."—John McWhorter, author of The Power of Babel, Our Magnificent Bastard Tongue, and The Language Hoax

"An elegant, insightful, and ballsy application of rigorous linguistic methods to swearing, that most revealing--and ignored--corner of language.... Though a descriptivist to the core, I issue the following prescription: read this effing book!"—Jesse Sheidlower, author of The F-Word

"Why we swear and where and when it is permissible are explained in this compelling treatise on one of the most taboo subjects in all culture. Read this fucking book or else you might be a wanker."—Michael Shermer, author of The Moral Arc

"It takes courage, energy, extraordinary intellectual chops, and a sense of fun to take on profanity. Ben Bergen has all in full measure. Read this book."—George Lakoff, Professor of Cognitive Science and Linguistics, The University of California, Berkeley
Basic Books, 9781541617209, 304pp.
Publication Date: April 3, 2018
About the Author
Benjamin K. Bergen is a Professor of Cognitive Science at the University of California, San Diego, where he directs the Language and Cognition Laboratory. His writing has appeared in Wired, Scientific American, Psychology Today, Salon, Time, the Los Angeles Times, the Guardian, and the Huffington Post. He lives in San Diego.
or
Not Currently Available for Direct Purchase