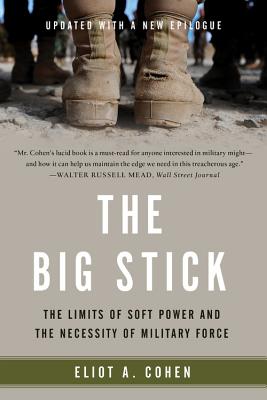 The Big Stick (Paperback)
The Limits of Soft Power and the Necessity of Military Force
Basic Books, 9781541617278, 320pp.
Publication Date: April 10, 2018
* Individual store prices may vary.
Description
"A must-read for anyone interested in military might--and how it can help us maintain the edge we need in this treacherous age." --Walter Russell Mead, Wall Street Journal
In The Big Stick, Eliot A. Cohen argues that hard power is essential to cope with the challenge of an ambitious and well-armed China, the continuing threat from violent jihadists, the rise of revisionist states such as Russia, and the problems posed by ungoverned areas from outer space to cyberspace. It is a clear-eyed account of what military means can and--equally important--cannot do, the lessons of recent wars, and how soft power can supplement, but never fully replace, armed force.
About the Author
Eliot A. Cohen is the Robert E. Osgood Professor of Strategic Studies at Johns Hopkins University's School of Advanced International Studies (SAIS). He is the prize-winning author of several books, including Supreme Command and Conquered into Liberty, and former counselor of the Department of State.


Praise For The Big Stick: The Limits of Soft Power and the Necessity of Military Force…
"Insightful."—Kori Schake, Foreign Affairs

"A balanced and sensitive analysis of America's military record since the attacks of Sept. 11, 2001...Mr. Cohen's lucid book is a must-read for anyone interested in military might--and how it can help us maintain the edge we need in this treacherous age."—Walter Russell Mead, Wall Street Journal

"Even if you disagree with Mr. Cohen... it's easy to spend time in his company. He writes thoughtfully, methodically, with unfussy erudition... an unfashionable, unabashed and - above all - unwavering case for the use of force in the service of American security and ideals."—Jennifer Senior, New York Times

"When one looks at the world as it is rather than how one may want it to be...Cohen's prescriptions make sense... I hope the valuable strategic analysis in this book will be taken up by the new administration."—John Hillen, War on the Rocks