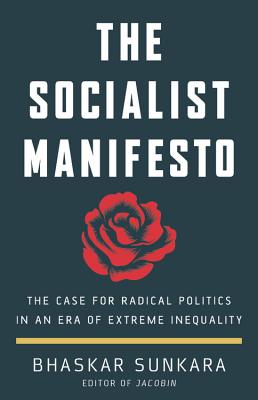 The Socialist Manifesto (Hardcover)
The Case for Radical Politics in an Era of Extreme Inequality
Basic Books, 9781541617391, 288pp.
Publication Date: April 30, 2019
Other Editions of This Title:
Compact Disc (4/30/2019)
Compact Disc (4/30/2019)
Paperback (4/14/2020)
* Individual store prices may vary.
Description
From one of the most prominent voices on the American Left, a galvanizing argument for why we need socialism in the United States today
With the stunning popularity of Bernie Sanders and Alexandria Ocasio-Cortez, Americans are embracing the class politics of socialism. But what, exactly, is socialism? And what would a socialist system in America look like?
In The Socialist Manifesto, Bhaskar Sunkara explores socialism's history since the mid-1800s and presents a realistic vision for its future. The editor of Jacobin magazine, Sunkara shows that socialism, though often seen primarily as an economic system, in fact offers the means to fight all forms of oppression, including racism and sexism. The ultimate goal is not Soviet-style planning, but to win rights to healthcare, education, and housing, and to create new democratic institutions in workplaces and communities. A primer on socialism for the 21st century, this is a book for anyone seeking an end to the vast inequities of our age.
About the Author
Bhaskar Sunkara is the founder and editor of Jacobin, which he launched in 2010 as an undergraduate at George Washington University. He has written for The New York Times, Le Monde, VICE, and The Washington Post. Sunkara lives in Brooklyn, New York.
Praise For The Socialist Manifesto: The Case for Radical Politics in an Era of Extreme Inequality…
"Accessible, irreverent and entertaining, Bhaskar Sunkara has delivered a razor-sharp guide to socialism's history, transformative promise, and path to power. This book also serves as an irresistible invitation to join in building that power, and in shaping the radically democratic future that is our best hope in these make-or-break times."—Naomi Klein, New York Times-bestselling author of This Changes Everything and No is Not Enough

"Thanks to the dysfunctionality of contemporary capitalism, 'socialism' has reentered the American political vocabulary, especially among the young. In The Socialist Manifesto, Bhaskar Sunkara gives us a lively account of socialism's history and current meanings, and makes the case for a genuine alternative to our deeply unequal social and political order."—Eric Foner, DeWitt Clinton Professor of History, emeritus, Columbia University

"A brilliantly compelling vision of why the US is ripe for socialism in the twenty-first century, from one of the brightest stars of the American left. Essential reading for anyone who wants to build a new society based on people's needs, not profit for the elite."—Owen Jones, Guardian columnist and the author of Chavs: The Demonization of the Working Class

"Sunkara describes the socialist tradition from Marx to the present and outlines the benefits of a socialist society.... A sharp, hopeful, and useful primer."—Kirkus Reviews

"In this erudite call to action, Sunkara, publisher of Jacobin magazine, draws lessons from the history of various socialist movements to imagine how socialism could rise in the U.S..... His recommendations for today's socialists are logical and well-informed."—Publishers Weekly

"American politics is gripped by the worst kind of debate over socialism: one where everyone has an opinion, but few know what they're talking about. In this book, Bhaskar Sunkara, one of America's leading socialists, shows what socialism is and how it might work. Whether you consider yourself a socialist or just want to argue with socialists, this is the place to start."—Ezra Klein, founder and editor-at-large of Vox

"Through his work pioneering work with Jacobin, Bhaskar Sunkara has been one of the most important global voices provoking a new worldwide conversation about socialism for a whole new generation of people, drowning in wealth inequality and economic crises, who are newly receptive to its core precepts. In The Socialist Manifesto, Sunkara strengthens his arguments even more powerfully, offering not just a compelling economic case for socialism, but a deeply moral one. Written with the kind of urgency and clarity that can move people, while dispensing with much of the ossified academic jargon that has often plagued and crippled discourse around socialism, Sunkara's book is crucial for obliterating the myths and propaganda that have often drowned socialism, and instead illuminating its genuine virtues."—Glenn Greenwald, co-founder of The Intercept and author of No Place to Hide: Edward Snowden, the NSA, and the U.S. Surveillance State