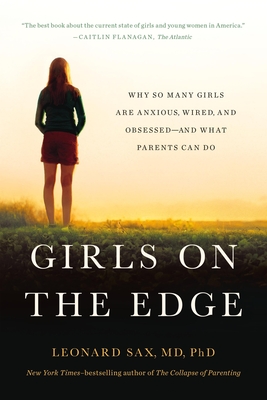 Girls on the Edge (Paperback)
Why So Many Girls Are Anxious, Wired, and Obsessed--And What Parents Can Do
Basic Books, 9781541617803, 320pp.
Publication Date: August 25, 2020
Other Editions of This Title:
Digital Audiobook (4/26/2010)
Paperback (7/12/2011)
Compact Disc (8/25/2020)
Hardcover (4/6/2010)
Audio Cassette (4/1/2010)
* Individual store prices may vary.
Description
A parenting expert reveals the four biggest threats to girls' psychological growth and explains how parents can help their daughters develop a healthy sense of self.

In Girls on the Edge, psychologist and physician Leonard Sax argues that many girls today have a brittle sense of self-they may look confident and strong on the outside, but they're fragile within. Sax offers the tools we need to help them become independent and confident women, and provides parents with practical tips on everything from helping their daughter limit her time on social media, to choosing a sport, to nurturing her spirit through female-centered activities.
Compelling and inspiring, Girls on the Edge points the way to a new future for today's girls and young women.
About the Author
Leonard Sax, M.D., Ph.D., is a board-certified family physician, psychologist, and author of Why Gender Matters, Boys Adrift, and The Collapse of Parenting. As the founder and executive director of the National Association for Single Sex Public Education (NASSPE), Sax has spoken on child development in over a dozen countries and has appeared across major broadcast radio and television, including programs on CBS, CNN, Fox, CBC, BBC, and PBS. Sax lives with his family in in Chester County, Pennsylvania.
Praise For Girls on the Edge: Why So Many Girls Are Anxious, Wired, and Obsessed--And What Parents Can Do…
The best book about the current state of girls and young women in America.—
Caitlin Flanagan, The Atlantic
Packed with advice and concrete suggestions for parents,
Girls on the Edge
is a treasure trove of rarely seen research on girls, offering families guidance on some of the most pressing issues facing girls today. Dr. Sax's commitment to girls' success comes through on every page.—
Rachel Simmons, author of Odd Girl Out,
The Curse of the Good Girl, and Enough As She Is
Crucial. . . . Parents of tween and teen girls would do well to check this book.—
The Chronicle of Higher Education
Dr. Sax once again combines years of experience with compelling research and common sense to intelligently challenge the status quo of what it means to raise a healthy daughter.
Girls on the Edge
offers skills parents can incorporate to feel more competent with our girls and young women.—
Florence Hilliard, director of the Gender Studies Project, University of Wisconsin-Madison
The world is way different from what it was a couple of years ago; this is essential reading for parents and teachers, and one of the most thought-provoking books on teen development available.—
Library Journal
Fortunately, [Leonard] Sax is up to more here than pronouncing young women irrevocably doomed. . . .
Girls on the Edge
doesn't dramatize the self-destructive behavior it describes . . . [and it] speaks exclusively to parents and offers concrete ways to help their daughters cultivate stronger personal identities.—
Slate.com/Double X
Turn off your cell phones and computers and read this book! You will connect with your daughter in new ways, and she will thank you.—
Rabbi Sandy Eisenberg Sasso, author of
God's Paintbrush and In God's Name
Leonard Sax brings together a rare combination of psychoanalytic training with a deep empathy for girls and their stories in this important book. His argument that girls are struggling to find their centers will resonate and his recommendations for how to locate them will inspire.—
Courtney E. Martin, author of
Perfect Girls, Starving Daughters
Dr. Sax's deep commitment to girls developing a positive 'sense of self' is woven into the fabric of this book. Girls on the Edge is a must-read for every parent of a girl as well as for every adult who teaches girls.—
Dr. Mary Seppala, head of school,
Agnes Irwin School, Bryn Mawr, Pennsylvania
Leonard Sax sounds a crucial warning to parents of teenage girls. No matter how attentive and savvy you are, the lives of girls today are like nothing you ever knew. The obsessions are worse, nastiness is rampant (especially on the web), drinking is up, and sexuality keeps creeping down the age ladder. 'Girls need girl-specific interventions,' Sax insists, and Girls on the Edge explains why-and also how to do it.—
Mark Bauerlein, PhD, professor, Emory University