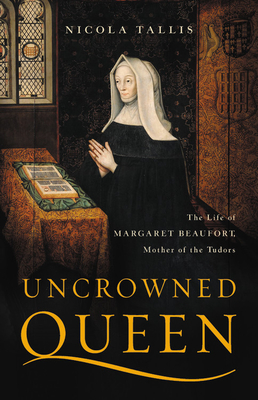 Uncrowned Queen
The Life of Margaret Beaufort, Mother of the Tudors
Hardcover

* Individual store prices may vary.
Description
An "impeccably researched and beautifully written" biography of Lady Margaret Beaufort, matriarch of the Tudor dynasty (Tracy Borman, author of The Private Lives of the Tudors and Elizabeth's Women).

In 1485, Henry VII became the first Tudor king of England. His victory owed much to his mother, Lady Margaret Beaufort. Over decades and across countries, Margaret had schemed to install her son on the throne and end the War of the Roses. Margaret's extraordinarily close relationship with Henry, coupled with her role in political and ceremonial affairs, ensured that she was treated -- and behaved -- as a queen in all but name. Against a lavish backdrop of pageantry and ambition, court intrigue and war, historian Nicola Tallis illuminates how a dynamic, brilliant woman orchestrated the rise of the Tudors.


Praise For Uncrowned Queen: The Life of Margaret Beaufort, Mother of the Tudors…
"Ms. Tallis has researched Margaret's life assiduously, delving deep into her account books... Henry's position would not be secure for several years, but Margaret's patience had paid off, and Ms. Tallis shows that she exerted considerable influence over the king and court. And, since she must know as much about Margaret as anyone alive, one may accept that Margaret Beaufort had managed her life's voyage with tenacity, and no little skill, to come safe and honored to harbor."
Wall Street Journal
"Stunning-informed, assured, and compulsivelyreadable. Nicola Tallis gives us not only the story of how the Tudor dynastybegan, but a sympathetic and convincing portrait of the flesh-and-blood womanwho was its founding mother."
Sarah Gristwood, author of Game of Queens and Blood Sisters
"Impeccably researched and beautifullywritten, Nicola Tallis's latest biography is her best yet. She dispels the manymyths surrounding Lady Margaret Beaufort and in their place creates an altogethermore compelling portrayal of a woman of extraordinary courage, vision andpassion. A must read."
Tracy Borman, author of The Private Lives of the Tudors and Elizabeth's Women
"A sensitive, well-rounded and moving portrayal of the woman who founded the Tudor dynasty."
Michael Jones, author of The King's Mother
"Tallis is a zealous destroyer of myth... [She] deploys an extraordinary eye for detail in telling this story... Through this superb revisionist biography, Margaret Beaufort emerges as a fascinating and often surprisingly sympathetic matriarch."
The Times of London
"A fresh biography of the woman who ushered in the Tudor dynasty... For fans of British royal history, Tallis is a reliable guide, and the timeline and dramatis personae are highly useful. A deeply researched work that allows this historic personage to live and breathe."
Kirkus Reviews
"This clear, straightforward portrayal of Margaret Beaufort's complex world will appeal to fans of the Tudors and English history."
Booklist
"Margaret never officially held the title of queen. But as Nicola Tallis argues... she fulfilled the role in all but name, orchestrating her family's rise to power and overseeing the machinations of government upon her son's ascension."
Smithsonian
Basic Books, 9781541617872, 416pp.
Publication Date: July 28, 2020
About the Author
Nicola Tallis received her doctorate in history from the University of Winchester. The author of several books, she has previously lectured at the University of Winchester and worked with Historic Royal Palaces and the National Trust. She lives just outside Bath, UK.