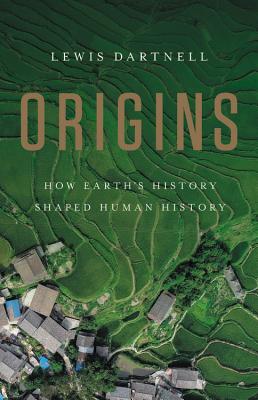 Origins
How Earth's History Shaped Human History
Hardcover

* Individual store prices may vary.
Description
A New York Times-bestselling author explains how the physical world shaped the history of our species
When we talk about human history, we often focus on great leaders, population forces, and decisive wars. But how has the earth itself determined our destiny? Our planet wobbles, driving changes in climate that forced the transition from nomadism to farming. Mountainous terrain led to the development of democracy in Greece. Atmospheric circulation patterns later on shaped the progression of global exploration, colonization, and trade. Even today, voting behavior in the south-east United States ultimately follows the underlying pattern of 75 million-year-old sediments from an ancient sea. Everywhere is the deep imprint of the planetary on the human.
From the cultivation of the first crops to the founding of modern states, Origins reveals the breathtaking impact of the earth beneath our feet on the shape of our human civilizations.

Praise For Origins: How Earth's History Shaped Human History…
"Origins is a Big History, a grand synthesis that draws from many fields.... Mr. Dartnell's breezy style is full of word play, setting him far from the plodding crowd of many science writers."—Wall Street Journal

"Dartnell's approach is encyclopedic, marked by both a broad sweep and a passion for details."—Washington Post

"Dartnell's story is beautifully written and organized. His infectious curiosity and enthusiasm tug the reader from page to page, synthesizing geology, oceanography, meteorology, geography, palaeontology, archaeology and political history in a manner that recalls Jared Diamond's classic 1997 book Guns, Germs, and Steel."—Nature

"Fascinating."—The Guardian (UK)

"Behind the human brilliance that historians recognize in ancient Egypt, Mesopotamia, and Greece,Dartnell discerns the effects of the plate-tectonic geology that created environments favorable to suchinnovation. To Dartnell's acute eye, later periods of human history likewise reflect the geodynamics of anevolving planet....Penetrating geosciencedelivers the surprising backstory of human history."—Booklist

"A thoughtful history of our species as a product of 4 billion years of geology.... Dartnell is an engaging guide through millions of years of history. An expert chronicle of the Earth that culminates in human civilization."—Kirkus Reviews

"Extraordinary book... Dartnell offers a new perspective on the relationship between human beings and their planet... Dartnell understands geology, geography, anthropology, physics, chemistry, biology, astronomy and history. That's quite an achievement, but what makes him special is the way he communicates the interconnectedness of these disciplines in a clear, logical and entertaining way...Superb."—The Times (UK)

"The perfect blend of science and history. This is a book that will not only challenge our preconceptions about the past, but should make us think very carefully about humanity's future. Five stars."—Mail on Sunday (UK)

"The central project of this book -- providing a geological take on human history -- is well illustrated and at moments, surprising."—Publishers Weekly

"A sweeping, brilliant overview of the history of not only of our species but of the world. Whether discussing the formation of continents or the role that climate (and climate change) has had on human migration, Lewis Dartnell has a rare talent in being able to see the big picture -- and explaining why it matters."—Peter Frankopan, author of The Silk Roads

"What a treat to see history through the eyes of an astrobiologist! Our history was shaped profoundly by the laying down of iron beds two billion years ago, by the tectonic forces that ripped open the African rift valley, by the slow cooling of the earth that began 50 million years ago, and by the evolution of grasses! Lewis Dartnell's absorbing new book shows, with many vivid examples, how deeply human history is embedded in the history of planet earth."—David Christian, author of Origin Story

"An original and timely way of looking at human history through the materials and natural resources that our species has employed to such effect. It should be read by everyone who ponders how long exploitation can continue on a finite planet."—Richard Fortey, author of Earth

"Endlessly enthralling, Lewis Dartnell explains why the history of humanity, and of human cultures, both take dictation from the deeper history of Earth herself--from broad generalities to surprisingly specific details. An entertaining and informative essay on contingency--and worthy successor to the writing of Stephen Jay Gould."—Ted Nield, author of Supercontinent
Basic Books, 9781541617902, 352pp.
Publication Date: May 14, 2019
About the Author
Lewis Dartnell is a Professor of Science Communication at the University of Westminster. Before that, he completed his biology degree at the University of Oxford and his PhD at UCL, and then worked as the UK Space Agency research fellow at the University of Leicester, studying astrobiology and searching for signs of life on Mars. He has won several awards for his science writing and contributes to the Guardian, The Times, and New Scientist. He is also the author of three books. He lives in London, UK.